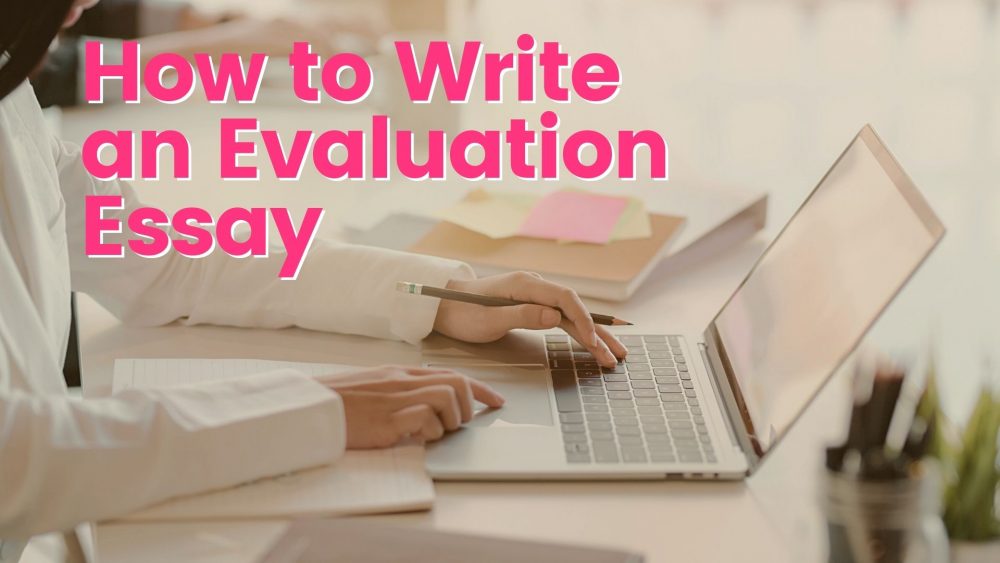 How To Write An Evaluation Essay: Guide And Ideas
Maybe you're reading this article to know how to write an evaluation essay because it's part of your college or university assessment. This paper presents a critical analysis of an idea or object. If you read movies, books, or product reviews, you're most likely familiar with this form of writing. An evaluation paper can be sarcastic, earnest, funny, or even serious.
Many people love reading reviews of a bad restaurant or movie experience. Some people love writing satire because they enjoy displaying their humor in this writing. You will also enjoy writing an evaluation essay if you're such a person.
What Is An Evaluation Essay?
An evaluation essay is a write-up that presents a critical analysis of an idea or an object.
When writing this essay, you evaluate or carefully examine something and provide your overall judgment. Writing this essay is an excellent way to size up an idea or an object. This critical writing sets precise criteria for evaluating something while providing solid and fair supporting evidence to help the readers form opinions.
What Is A Written Evaluation?
This essay is an example of a written evaluation. Like other essays, this assessment must have a thesis statement. It should have the primary idea that the writer is conveying and a thesis statement highlighting the main concepts of the evaluation. Such concepts are the evaluation criteria that the writer selects.
For example, the movie's plot, editing, framing, and acting could be your criteria when evaluating a film. Navigation options, layout, and ease of use could be the criteria for evaluating a website. Using such criteria enables you to determine whether the object or product fulfills its objective. Ideally, a written evaluation should highlight the crucial aspect or something and compare it with the ideal.
If you decide to evaluate a political cartoon, start by understanding that people expect it to be sharp, critical, insightful, and satirical. Therefore, judge it based on the political cartoon category and their standards. Thus, you can assess its ability to achieve what the audiences expect. Additionally, do this without exhibiting your opinion but conveying careful observations, considerations, and facts.
What Is The Purpose Of An Evaluation Paper?
Most educators ask students to write evaluative essays and papers to provide objective critiques of subjects by reviewing their qualities, characteristics, styles and assessing their overall effects on the audiences. Ideally, this writing aims to apply values to objects according to the way they meet the set criteria.
How To Write An Evaluation Essay
The first step when writing this essay is to consider the object. In this case, that thing is your topic. Maybe your professor asked you to write about a particular item. If so, analyze it extensively before you start writing. But if the educator asked you to evaluate an object of your choice, think about something you're familiar with and make it your topic. Also, please take a deep look into the subject to judge its value reasonably.
Create An Evaluation Essay Outline
Once you've chosen your evaluation object or topic, create an outline to guide you through the writing process. Generally, an evaluation essay format comprises elements that teachers want to see from their students' work. These elements are as follows:
Introduction: This is the first section of this essay. Here, the author introduces the idea or object to provide a bigger picture or overview of the evaluation. Also, this section has an evaluative thesis statement, including the overall judgment and its supporting reasons.
Body paragraphs: In this section, the writer provides the criteria for evaluation essay and supporting reason while addressing objections or refuting them. Each reason should have a paragraph, measure, supporting evidence, and discussion about protests.
Conclusion: The final section of this essay should restate the thesis statement and the essay's purpose. However, the writer should change their words to state their thesis and ensure they leave readers with a solid recommendation.
How To Start An Evaluation Essay
Once you have an outline, start by immersing yourself in the object that you want to write about in the essay. And this entails considering the purpose of the item or idea, how it works, what the developer wanted it to do, how it is doing, and whether or not it's achieving its primary objectives.
Ideally, start by familiarizing yourself with the topic or object to determine its success in achieving its goals. For instance, consider how movies in a genre operate when evaluating a film. When assessing a business, learn how similar enterprises function and their success or failures.
How To Do An Evaluation
Conducting an evaluation is a process with several steps as follows.
Clarify the object to evaluate: This step enables you to develop an evaluation with defined goals, strategies, populations, outputs, outcomes, and activities.
Engage stakeholders: If the object is a product with stakeholders, you can engage them to know the purpose of the evaluation object. Thus, you evaluate the item, knowing the stakeholders' expectations and interests.
Assess evaluable resources: This step enables you to evaluate the available resources to know their usage or implementation. Such resources can include time, funds, support, and approval processes.
Set evaluation questions: Determine the questions to generate relevant information for your evaluation paper.
Determine appropriate measurement methods and procedures: Here, you identify credible and feasible methods for collecting data that will go to your written evaluation.
Create an evaluation plan: In this step, identify your evaluation tasks, activities, resource allocation, roles, and deadlines.
Collect data: Gather credible evidence answering your evaluation questions. Use this information to support your recommendations or results.
Analyze results: Check the consistency and quality of your data and then analyze it before presenting it.
Interpret results: In this section, interpret the results of your evaluation.
Apply the evaluation findings: Use the evaluation results to improve the product or object.
An evaluation can be descriptive or argumentative. For instance, if your goal is to describe the object of your assessment, that essay will be illustrative. That means you will explain the aspects or traits of the item or idea based on your evaluation findings. However, you may want to argue a specific point in the essay. In that case, your thesis statement should state your argument in the paper. That way, the readers will know what your writing is about or clarify your stance in the essay.
Steps For Writing An Evaluation Argument Essay
After doing an evaluation, there can also be a format in which you make an evaluation argumentative. Here are the steps of how to do that:
Analyze your topic: The first step is to understand your subject, whether the educator assigned it or allowed you to choose. That's because you want to make a reasonable value judgment depending on your preferred criteria.
Formulate a thesis statement: A thesis statement hints at the essay's overall purpose and your stance on the topic. Therefore, state it clearly to give your essay a direction. For instance, your thesis statement can provide readers with details like the product value or its absence.
Consider your evaluation criteria: Think about the points you will make in your paper. For instance, will you say that the object you want to evaluate has served its purpose? If so, decide on the supporting evidence or reasons to include in your argument.
Analyze supporting evidence: Remember that this essay requires you to judge the object and argue in support of it. Therefore, decide on the evidence to support your judgment to convince the audience.
Write the first draft: Writing to evaluate requires you to organize information to enable the readers to follow your argument. Therefore, present your criteria and evidence supporting your views effectively.
Write the paper: Use your outline to write the essay. Ensure that you have an introduction with a thesis statement, the body with the evaluation criteria and supporting evidence, and finally, a conclusion. Ideally, the introduction should introduce your evaluation topic. The body paragraphs should present the supporting evidence to back up the judgment. Your conclusion should summarize the essay material while restating the final decision.
Proofread the paper: Once you've written the essay, proofread it to eliminate typos, spelling, and factual errors. You can put the work away for a while and come back to proofread it later. Alternatively, hire online professionals to edit your essay.
Example Of Things To Evaluate In Writing
Maybe the educator didn't specify what you can evaluate in your essay. In that case, you could have a hard time selecting an evaluation topic. Here are examples of what you can assess and write about in your essay.
Product: Choose a product of your choice and evaluate its strength, purpose, longevity, ease of use, and cost.
Service: Pick a service and then analyze its price, friendliness, attentiveness, ability to cater to the clients' needs, and overall effectiveness.
Bed and breakfast: Evaluate food taste, breakfast options, cost, bed's comfort, service, local attractions, and cleanliness.
Ideally, select specific elements for justifying an evaluation essay as objective, argumentative, or descriptive. However, ensure that your paper presents adequate information supporting your thesis statement.
Tips For Writing An Evaluation Paper
Include adequate details: Explain how you arrived at your conclusions and provide supporting evidence and relevant examples to your readers.
Make your evaluation precise: Include a practical introduction telling the readers what you will evaluate and the criteria you will use.
Ensure that the readers agree with your views: Readers will agree with your judgments and conclusions as long as the evaluation isn't prejudiced. And you can achieve this by providing adequate evidence and information in the essay.
Presenting opposing viewpoints: Your essay's opposite opinions show the readers that your evaluation is unbiased.
Illustrate your opinion: Include personal experiences, quotations, descriptions, and comparisons to support your argument.
Evaluation Essay Example
Having the ability to check out a sample of an essay always can be a great help. Look at this evaluation essay sample to get a better idea of how to write one:
The Apple iPhone is on top of international sales and continues to dominate the market. The 'iPhone 6 Plus' is equipped with 5.5-inch screen with inbuilt high resolution Retina HD display. A 5.5-inch LED-backlit IPS LCD display with the capacity of 1080 x 1920 pixels covers 16M colors supported by convenient multi touch options. The shatterproof glass will protect your iPhone from any incidental crushes.
This extremely powerful model in the iPhone 6 series stands out and overshadows other models designed by Apple. The device holds Dual-core 1.4 GHz Cyclone processor and A8 chip to deliver even more power on the extensive display. Its efficiency is due to the M8 motion coprocessor capable of processing various data at a high speed. The device is perfectly suited for entertainment purposes like watching movies and videos while you are away from home or on a trip. MacX Video Converter Pro enables to convert any SD or HD video or Phone ringtones, AAC and MP3 recordings with flawless quality and at the highest speed. iPhone 6 Plus is also a convenient downloader and converter of YouTube videos and audio files from social networking sites and Instagram. The innovative device supports more than 300 video audio sharing sites.
iPhone 6 Plus has great news for online shoppers who care about the bargaining convenience and security of their private information. The device holds 'Apple pay application' combining the convenience and security of Touch ID and Passbook owing to the deployment of NFC technology enabling shoppers to pay by Visa, MasterCard, and American Express.
The longstanding capacity of battery is another advantage of this incomparable product. Its battery life enables strong power supply reaching almost 24h of interrupted talking, 384 hours of 3G use, and playing music for about remarkable 80 hours. There are almost no limits of listening to favorite tracks, watching videos and trailers, social networking and chatting with friends and colleagues. The power duration is just not an issue with iPhone 6 Plus.
This recent innovation in the world of Apple's cutting-edge technologies also impresses with advanced 8MP camera. The device holds such apps as Health iSO 8, iCloud Drive, Family Sharing, and enables quick LTE downloads. There are available version of the same iPhone 6 Plus model holding improved 8MP camera (3264 x 2448 pixels), autofocus, OIS (optical image stabilization), and dual-LED flash. Its all-round video converter enables to make spectacular photo slideshow videos based on special effects and musical background. The 4K video recording feature of the camera also impresses the iPhone 6 Plus holders much.
Hence, the model is almost perfect and incomparable in terms of technology, design, software, and applications. The innovative design simply mesmerizes you right from the first glance on it. The product is 7.6 mm thin and 112 gram light that make it both incredible and impressive. The simplicity of iPhone 6 Plus use is astounding. You just feel like your finger is working wonders with it. The increased capacities, and particularly the processing speed of 'iPhone 6 Plus', are staggering. At that, Apple managed to increase the battery life owing to a new processing chip. This way, Apple once again proved its name of an outstanding contender designing its own advanced technology and making it demanded all over the world.
The micron-level precision is the legacy of iPhone 6 Plus that will never let you down. After I have purchased it, I recommend the model to all my friends. Its thinness and lightness are beyond anyone's imagination, so I hope you are the next one to try it! Larger sensor, more pixels, live video zoom, true tone flash, photo filters and panorama photos are all designed for you to inspire more positive feelings with iPhone 6 Plus!
Get Essay Help Online
Maybe your educator asked you to evaluate an object or idea and write an essay about it. Perhaps, your high school teacher has set a strict deadline for the assignment, yet you don't have the slightest idea of their expectations. In that case, our skilled essay writers can help you.
Our experts can help any student with an essay assignment, regardless of their educational level. Whether you're pursuing college, high school, or university education, we can assist you with this academic task.
We offer fast, reliable, secure, and custom services to students worldwide. Our services are cheap and aimed at helping learners excel academically. When you choose to write an essay for money with us, no matter how complex the assignment seems, we can help you score the top grade in your class. We've helped students like you complete essay assignments and graduate with excellent results. Contact us now for the best help with your evaluation paper and to order essay services now!