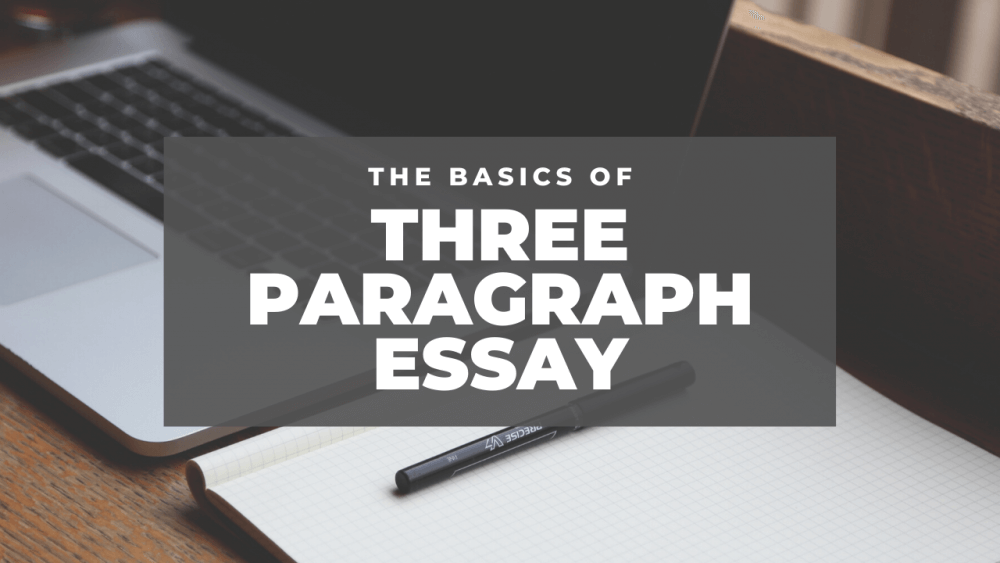 Mastering Three Paragraph Essay Writing With This Expert Guide
A 3 paragraph argumentative essay would seem short and lacking enough substance. I mean, even a friendly letter or an official letter wouldn't be this short.
Here's the deal:
Take a scenario of a rat in your house, and you'd like to get rid of it. There are several tactics you may employ to eradicate them. One would buy rat poison, another would go for a rat trap, and yet another, burn the whole house! As simple as that and your problem would have been solved.
It should not always be the case to follow the standard, five-paragraph essay format for you to arrive at what you intended.
How Does A 3 Paragraph Essay Look Like
Now, how is this one done?
In such an essay, you are limited to only three paragraphs. So, here is a 3 paragraph essay outline that will help you get started.
First Paragraph: Introduction
It is usually the introductory paragraph. Here, a student should thoroughly bring the reader into a full perspective of the article by creating a background.
In other words, expound on the topic and include the thesis statement, which will enable the reader to understand the scope of the essay.
Let the reader be able to identify the theme of your essay and have a glimpse of what awaits him/her in the body.
The introduction paragraph should:
Be Captivating
Act as a bait
Contain all the background information necessary
Have a strong thesis statement
Remember that this part will determine whether the reader proceeds to the rest of the essay or not. Ensure that it is worth it, lest your piece gets thrown to the dustbin on arrival.
Second Paragraph: Body
A 3 paragraph descriptive essay has the body as its core. One would call this "the heart" of the article because all the evidence and facts to affirm your thesis statement lie here.
Even though a 3 paragraph narrative only has one paragraph for the body, its advisory role should not be thrown to the wind. The thesis statement in the introduction should guide you on the nature of the body.
Here's the big secret.
In your evidence and examples, maintain as much brevity as possible. Using short sentences will help a great deal in expounding on the topic more widely. Have the topic sentence and one or two supporting sentences for compelling arguments. Do not forget to have a transition sentence to mark different thoughts.
Third Paragraph: Conclusion
It is typically the last paragraph of any essay. How do you write a 3 paragraph essay conclusion then?
Make a summary of the arguments made in the body paragraph. Since you only had one body paragraph, the conclusion, in this case, would not be a complicated matter. However, take caution to avoid the temptation of adding a new thought in the end because of the limited paragraphs. Restate the thesis statement and pose a challenge to your reader in this concluding part.
After understanding the structure, let me show you some painstaking tips that can help you write a 3 paragraph essay.
Powerful Tips to Get you Started
Follow the following guidelines, and you'll be sure of a topnotch, pentagon state 3 paragraph essay.
Have a catchy topic
Maintain brevity
Preciseness and straight to the point
Adhere to the structure and formatting
A plentiful evidence and facts bank at hand
Appeal to the reader
Let the essay speak for itself (you won't have a chance to clarify things to the reader)
You can explore some of the already written 3 paragraph essay examples for more ideas on the same. Bear in mind that you do not have the luxury of 5 paragraphs, so make each word and sentence count!
Coming up with topics for such an essay would seem hard for most students. Every question seems to demand more than three paragraphs to be complete.
Luckily, there's a simple solution.
We have sampled out some topics that will get you inspired to start writing your 3 paragraph essay today.
Top-notch 3 Paragraph Essay Topics
Your favorite line of a song
An essay about yourself
What you love about your hair
How you got your first phone
What interests you the most about writing
Do you think freelancing pays?
Your take on English as a subject in school
What do you love about your mother?
A day to commemorate in your life
Why your pride in your country
The greatest mistake you ever made
Your best friend's attitude
Which is your favorite quote from Barack Obama?
Do you like swimming?
Why you love your phone or laptop
And the list continues to infinity. The secret is choosing an idea that does not require a lot of illustrations or descriptions to make it come to life.
Dealing With 3 Paragraph Essay May Be Hard – Leave It To Our Writers!
With the tips and outline provided above, you can come up with one of the best 3 paragraph essay ever! Go ahead and try it out right now. You never know, your piece might be selected to be read in one of the State of the Union address by the POTUS.
We offer professional essay writing help at budget-friendly prices. Try our team of expert writers today.