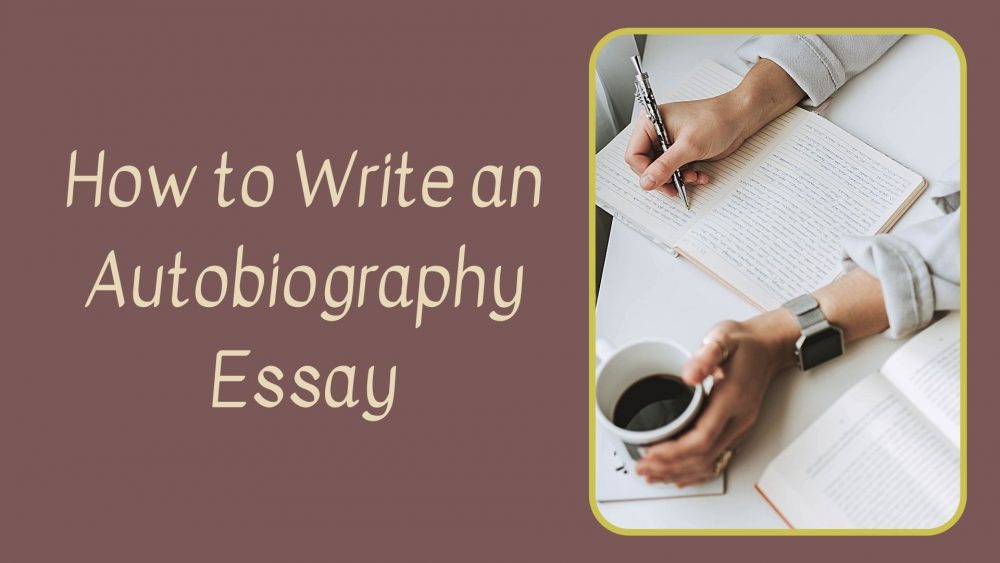 How To Write Autobiography Essay? Helpful Guide
Most students who are reading this page don't know how to write an autobiography essay, so they worry that the grade won't be anywhere near what they expect. This is true, unfortunately. However, you shouldn't overthink it.
Trust us, when it comes to writing an exceptional autobiographical statement, very few students manage to get it done from the first try. Truth be told, writing an autobiography essay is not only difficult but also very time consuming.
The good news is that now you have an in-depth guide to help you. Get assistance from our reliable writers right here and learn everything there is to know about the autobiography college essay. We will tell you what this paper is and why it is important to learn how to write one. Also, you will get detailed information about the format of such an essay, as well as a guide on how to write one quickly. Last but not least, we will show you a sample outline and tell you more about where to get a good example from. Let's begin!
Definition Of Autobiography Essay
Writing an interesting personal essay is not easy, but you already know it. So, let's shed some light on the subject. And what better way to do this than by defining the term "autobiography essay?"
An autobiography essay is a paper that focuses solely on you. This means you can write such a paper on just about anything from your experiences and personal life to specific events and things that made you the person you are today.
But why is it so important to learn how to write an excellent autobiography narrative essay? Well, this type of paper is usually required as part of your application for colleges, scholarships and even specific jobs. Yes, this essay is the only way for people who don't know you to learn who you are and why they should trust you. So yes, learning how to write an autobiography for school applications can be one of the most important things you can do.
Additional Information About Autobiographical Essay
Now that you know what an autobiographical essay is and why it can be extremely important, it's time to tell you more about this type of writing assignment. Here are some things you need to keep in mind when writing an autobiographical paper:
This essay will present personal details, so make sure you really want to write about specific events in your life.
You need to be accurate and reflective in your writing. Remember, this is still an academic paper – even though it's about your life.
Always write the autobiography in first person. Failure to do so may result in severe penalties from your professors or from the admissions committee.
Avoid using too many quotes in your writing. Why? Because quotes are written by other people, which is not something you want in a paper about yourself.
Be as descriptive as possible. Make sure you set the stage and provide as many details as possible. Make your audience visualize. Don't just tell; show!
Start your autobiography with a punchy line. Find something intriguing and start your paper with it. You want to capture the attention of your audience in an instant.
A Word About Autobiography Essay Format
Don't know how to write an autobiography essay for college? Or perhaps you want to send one of these essays to a potential employer. What do you need to know about the format? Here is everything you need to know about the autobiography essay format:
Generally, the paper should be around 1,500 to 2,000 words. You don't need more than this to make a statement because you are not writing your memoirs.
Most autobiography essays are structured similar to a 5 paragraph essay. You have an introduction, three (or more) body paragraphs and a conclusion. Each body paragraph will discuss an important idea and can be structured into several subparagraphs.
Remember that the events you are talking about should be discussed in chronological order. It is very important to structure your paper correctly to avoid confusing your reader.
Don't forget to include a bit of background information every time you discuss a new idea. You could even set the stage to help your readers visualize what you are talking about.
Keep in mind that the autobiography is about you, so do your best to refrain from using quotes and talking in second or third person.
Information On How To Start An Autobiography Quickly
To learn how to write an autobiography essay quickly, you need to become a master of planning. This is why we will show you how to start an autobiography in just 2 hours. Here is what you need to do:
First, you need to find a great topic for your autobiography. This depends on what you will use the paper for. If it's for a college application, you need to talk about something related to your academic performance or school-related events. If it's for a job, you need to talk about your professional experience, previous work, and so on.
Write down some things that you could write about. This is where you need to do some serious brainstorming. Write down anything that you think would interest the person reading your autobiography.
From the list of ideas, pick the best one for your scope. Remember, you need to write about a real story from your own life. The story should show your personality and character. It should describe you to your reader and show him or her why you are unique in your own way.
Think about what the audience wants to see in your paper. The college admissions committee has certain expectations. The human resources specialist has different expectations. You need to know your audience and understand their "desires" before you start writing your paper.
Create an outline of the autobiography. You could write a short bio and then expand it, or you can search online for an example. Don't worry, we have an example below and we'll also show you where to get more very quickly.
This is basically everything you need to do to start your autobiography. Once you have the best topic in mind and a great outline, all you have to do is write your story. As long as you don't skip the planning part, writing a great autobiography essay shouldn't be too difficult.
Learn How To Write Autobiography Essay For A Top Grade
Now that you know how to start autobiography about yourself, it's time to talk a bit about how to write autobiography essay step by step. Because let's face it: you want to see exactly which steps you need to take to complete the paper as quickly as possible. And besides, it's a lot easier for you to follow a guide than to try to figure everything out yourself. Here are the basic steps you need to take to write the autobiography in record time:
The first thing you need to do to learn how to write a biographical essay about yourself is to plan ahead. Read the previous section to learn how to do this.
Once you have a topic and a great story in mind, it's time to start writing the introduction. This is where you introduce the topic and provide some background information about yourself and about the story.
Write three body paragraphs, each discussing a single idea. We've told you what to include in these paragraphs already, depending on what you will be using the autobiography for.
Write a great conclusion. This is basically the part where you summarize everything and make it clear that you are the perfect candidate for the job or for the scholarship/college you are applying for.
Edit your work thoroughly. This is very important because you need to make sure your autobiography is well structured, perfectly written and as polished as it can be.
Proofread your paper at least twice to make sure there are no grammar/spelling errors or typos. It's a great idea to give your paper to somebody else and get some feedback.
That's it! The process of writing an autobiography isn't overly complicated once you have a great story in mind and an outline. Speaking of the outline…
A Simple Autobiographical Outline
We know, you want to learn more about the perfect autobiographical outline for your needs. However, because an autobiographical essay can serve many purposes, there is no magical outline that works for everything. We will show you an example we think is extremely important. This is an autobiography for a potential employer, but it can be used for a school application with minimal changes:
Introduction (present yourself)
My Job Search

My first resume
My first application
My first interview

My Experience

Previous jobs
Important skills
What made me successful?

Why Choose Me?

What makes me perfect for the job?
What value can I bring to your company?
What can you expect from me?

Conclusion

What did my past experiences teach me?
What would I do differently?
Remember, this autobiography statement can easily be changed and then used for a wide variety of scopes. For instance, you can use it to talk about your school experience or your childhood. You can use it to tell your life's story or discuss a very specific moment in your life. You can even use this autobiographical sketch to apply for college. Just add new sections that are relevant and delete the sections that are not necessary.
Getting Another Great Autobiography Sketch Example
Truth be told, it can be pretty difficult to get a great autobiography sketch example that can be used without changes. As we've said, each autobiography serves a different purpose and, as such, its structure is different. However, there is one place where you can get an example tailored to your specific needs: our academic writing company. Our experienced writers will help you with a great sample that you can use right away. You can get just a sketch and add all the content yourself, or you can request a complete product. Our team will tell your story and focus on what you want to achieve with it, so you won't have to edit anything. To be honest, our customers usually send our work directly to the potential employer or to their chosen school's admission board. Yes, our experienced writers are really that good!
Can't Somebody Just Write My Essay for Me?
I don't have time for this; can't you just write my essay for me? If you don't know how to write a good autobiography essay for high school, college or university, our expert ENL writers can help you. Our essay service has plenty of native English writers who have years of experience delivering well written creative autobiographical papers to students of all ages – anywhere in the world.
So, can you guys write an autobiography essay about myself today? Yes, we can help you with anything from writing the autobiography essay introduction for you to writing the entire paper. All you have to do is tell us as much as possible about yourself and we'll make sure you get the best custom academic content possible in record time. You can get a high quality paper in as little as 3 hours, even during the night, so what are you waiting for?