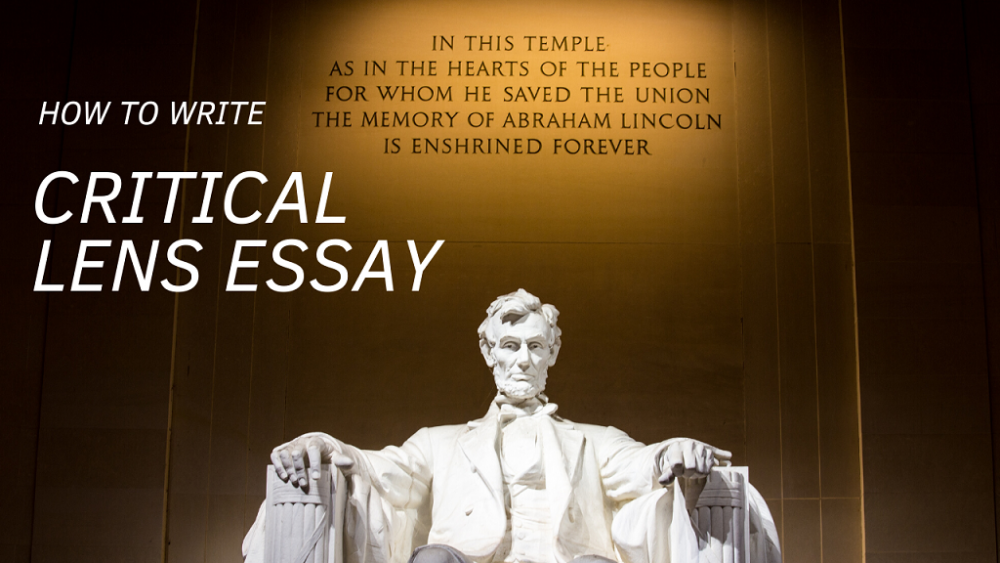 Critical Lens Essay Guide: Useful Tips to Make a Great Paper
At some point, in your college or university studies, one of the assignments you are likely to get is a critical lens essay. Notably, it is considered by students as one of the most complex types of assignments. Like the name "critical lens essays" suggest, the assignment provides you with a chance to demonstrate your own reading, analytical, and writing skills in a controlled situation.
This post is a comprehensive guide on writing a literary analysis through the lens of a quotation. To help make the process of writing a critical lens essay easy, we have further provided you with some great tips and essay quotes.
What is a Critical Lens Essay?
A critical lens essay is a form of academic writing that requires you to interpret and analyze a quote or a statement. The focus of the essay is on deciphering the quote under consideration and highlighting its strengths and weaknesses.
In a critical lens essay, you can either agree or disagree with the quote under consideration. Therefore, you need to read further to understand the quote, factoring the context in which it was used. Critical lens essays offer the tutor a perfect opportunity to evaluate a student's abilities and skills.
How to Write a Critical Lens Essay Step by Step
When writing a critical lens paper, the primary goal should be creating a comprehensive outline. This should provide you with a clear picture of the entire essay. Then, you should target accomplishing three different things:
Clarification.
Assessment.
Interpretation.
Before you start writing, take some moment to think about your opinions. It is also crucial to detect key elements such as style, symbols plot, setting, flashback, theme, tone, and vocabulary that are used in literature.
You should consider checking a leading critical lens example essay for more insights on how these elements are used. Here is a step by step demonstration of how to write a critical lens essay.
Select a meaningful quote. When you introduce the quote, make sure to also indicate its author.
Interpret the quote. You can do this by rewriting it in your own words. Make this your thesis.
Indicate whether you agree or disagree with the thesis.
Introduce literary references that can help to prove the thesis. Using a sentence or two, demonstrate how the references support the thesis.
Commence the first paragraph by looking at the first literary reference brought out in the introduction. Here, make sure to select the literary element, via which the text, as well as thesis, would be interlinked. Make sure to demonstrate how the text example anchors the quote.
Repeat step five but exploring other literary works in the second and subsequent paragraphs.
The final stage of the critical lens paper is summarizing the key points. Here, you should restate the thesis and the quote you focused on.
Top Critical Lens Essay Quotes
One of the most important things when learning how to write a lens essay is the quote you select. Indeed, everything in the essay revolves around the critical lens quotations. To get you started, here are some great quotes to consider.
"Life is what happens to you while you're busy making other plans" (John Lennon)
"Nobody can acquire honor by doing what is wrong" (Thomas Jefferson)
"Men are at the mercy of events and cannot control them" (Herodotus)
"You only live once, but if you do it right, once is enough" (Mae West)
"Obedience is the mother of success and is wedded to safety" (Aeschylus)
"Price is what you pay. Value is what you get" (Warren Buffet)
"Prejudice is the child of ignorance" (William Hazlitt)
"It is impossible to go through life without trust" (Graham Green)
"No two persons regard the world in exactly the same way" (J. W. von Goethe);
"Although the world is full of suffering, it is full also of the overcoming of it" (Helen Keller)
"Don't cry because it's over, smile because it happened" (Dr. Seuss)
"Insanity is doing the same thing, over and over again, but expecting different results" (Albert Einstein)
"Life is like riding a bicycle. To keep your balance, you must keep moving" (Albert Einstein)
"It is the human lot to try and fail" (David Mamet)
"The human heart has ever dreamed of a fairer world than the one it knows" (Carleton Noyes)
"All that is literature seeks to communicate power" (Thomas De Quincey)
"What lasts is what is written. We look to literature to find the essence of an age" (Peter Brodie)
"All literature is protest. You can't name a single literary work that isn't protest" (Richard Wright)
"In a dark time, the eye begins to see" (Theodore Roethke)
The right good book is always a book of travel; it is about a life's journey" (H.M. Tomlinson).
"We pay a price for everything we get or take in this world" (L. M. Montgomery)
Tips for Writing Critical Lens Essays
Now that you know the key steps on how to write a critical lens essay, go ahead and use the above quotes to write your paper. To help make your critical lens essays more impressive, here are some useful tips.
Work on improving your skills progressively. Use every opportunity to practice writing a critical lens and other types of essays.
Read other critical lens essay examples to understand how pros do it.
Always work on a draft before writing the final paper. This allows you to improve the paper before submitting it to your tutor.
Strictly follow the guidelines provided by your tutor. Your professional tutor will mark the essay against the requirements when awarding marks
From the above guide, can you now craft a winning critical lens essay? If you are still finding it difficult even after using critical lens examples, consider seeking writing help. This is assistance offered by expert writers who understand the critical lens definition, have a lot of experience, and are willing to get you the best essays in no time.