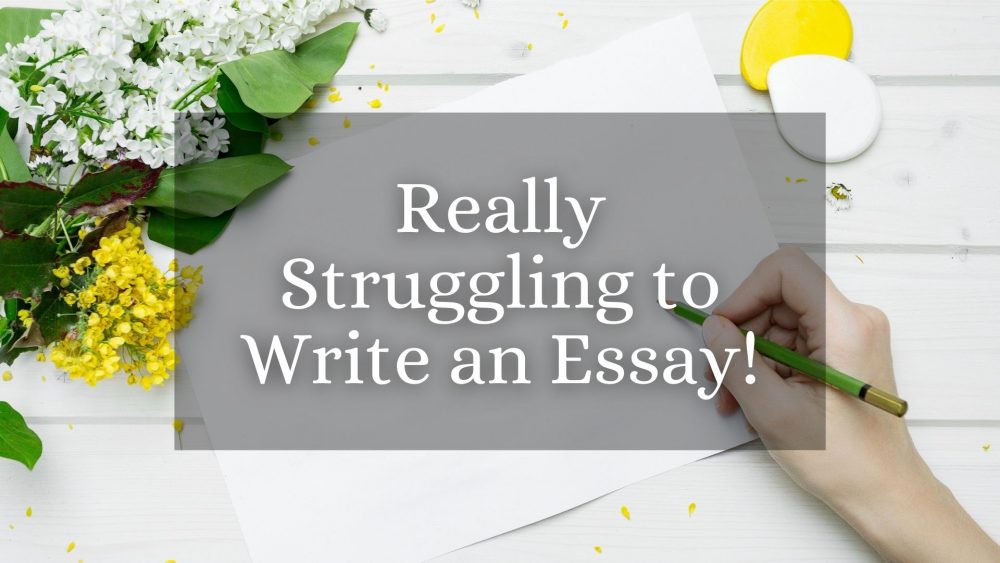 I'm Really Struggling to Write an Essay – HELP!
So, you're really struggling to write an essay and nothing seems to do the trick. You don't know why, but you're only writing 100 words in 3 hours (or worse). Don't worry about it too much; we're here to help you. In this blog post, we will talk about the many things that are preventing you from doing a great job on your essay. We will also give you all the tips and advice you need to become a productive, efficient students once again. So, why do students struggle with writing? Why is writing so hard for students? Let's find out!
Why Is Writing so Hard for Students?
Many high school, college and even university students are having a very difficult time completing their academic papers on time. This is a fact. In other words, you shouldn't feel too bad about it – if this is happening to you. But why are essays so hard? Why can't you get that paper done on time? Here are just some of the reasons you may be having trouble with some of your school chores:
You'd rather be doing anything else. The moment you start working on your essay, you start thinking about other – more interesting – activities such as scrolling through Facebook, watching YouTube clips, and even going out with your friends.
What is a process essay? I don't know how to write a critical essay! These are just two of the frustrations students have to deal with every semester. In most cases, you don't know how to write a specific type of academic paper.
You know nothing about the topic or your professor really did a poor job explaining things in class. It is not your fault, we know. However, these circumstances are not making your job (of writing your essay) any easier.
You never get the assistance you need. Your professor is too busy to answer and all your classmates are desperately trying to get their own papers done on time. Don't give up; help is just around the corner!
Main Problems and How to Overcome Them
So, why is it so hard to write an essay? Leaving aside the issues we've listed above (we'll figure a way to solve them a bit later in this article), there are several other things that are probably preventing you from being efficient at writing academic papers. Here are some of the most common problems students stumble upon (and how to overcome them):
You are not the best essay writer in your class. We'll have to be honest with you: you need to learn how to write academic papers the right way. The good news is that you can easily overcome this problem by using the Internet. You can find plenty of excellent resources on Google (many of them on this blog).
You are on a very tight deadline. Perhaps you've postponed writing your essay until the last possible moment. Or perhaps your professor is very demanding. In any case, the best way to get past this problem is to organize your time (right now!) and start working hard.
You can't stay focused on your school chores. This happens to the best of us. The best way to overcome this issue is to organize your time effectively. Make a plan, set some goals. And, most importantly, stick to your plan!
Something always comes up exactly when you have school chores to do. This is easy to fix. Simply find a quiet place to study. Tell your family and friends that you will be unavailable for a couple of hours. You should also turn off your phone, TV, radio, iPod, etc. Don't go online unless you need to do some research.
Your professor expects top quality work and you fear that you won't be able to live up to his expectations. You shouldn't think about your professor. Just focus on writing the best possible essay. We can guarantee that you will get a top grade if you do so.
Learn How to Write an Essay and Score High
I can't write an essay! Help! Don't know how to make yourself write an essay? Don't worry; we know that most students don't have extensive experience writing academic papers. This is why our professional writers and editors have put together a quick guide that will help you stay on track. As long as you know what you have to do, you will be a lot more efficient. Whenever you're struggling with writing essays, just take a look at this step by step guide:
First, you need to pick a good topic for your essay (if you haven't received an essay prompt). The topic shouldn't be too narrow or too general. You want to pick something interesting and original.
Come up with the thesis. This is basically what you want to demonstrate in your academic paper. One or two sentences should suffice. Remember that the thesis needs to be inserted into the introduction.
Start doing the research and use the data you collect to make an outline of your essay. Each important idea will be a heading. Less important talking points (that may support important ideas) will be subheadings. The outline is similar to a table of contents.
Remember, no matter the difficulty of the topic, you can always turn to the 5 paragraph essay structure for help. This means you will have to:
Write the introduction. This is where you provide some background information about the topic, as well as present the thesis statement.
Write at least 3 body paragraphs, each discussing a single important idea. Start the paragraph with a bold statement and use the rest of the paragraph to support it.
Write the conclusion. Wrap everything up (a summary of your main talking points should do the trick) and end everything with a strong call to action (if possible).
Edit and proofread your work – at least twice. You want everything to be perfect. Why lose points over a few typos?
You Can Get Essay Writing Help
No matter how much I want to, I can't write essays! If you're having a hard time writing an essay and nothing seems to work, it's time to get some real help from our expert writers. They have PhD degrees in various fields, as well as a deep understanding of any essay structure you can think of. Perks of working with us include:
We have been helping students of all ages get top grades on their academic papers for over 10 years.
All our content is 100% original, written from scratch (a plagiarism report is provided to you for free).
When you get writing help from our company, you also get our 100% Money Back guarantee. This way, you don't have to worry about the writer being late or about poorly written content.
What to do when you really can't write an essay yourself? Get help from our experienced ENL writers and professional editors, of course. Our customer support department is ready to put you in touch with our best experts in minutes – even during the night or on holidays. Get in touch with us today!