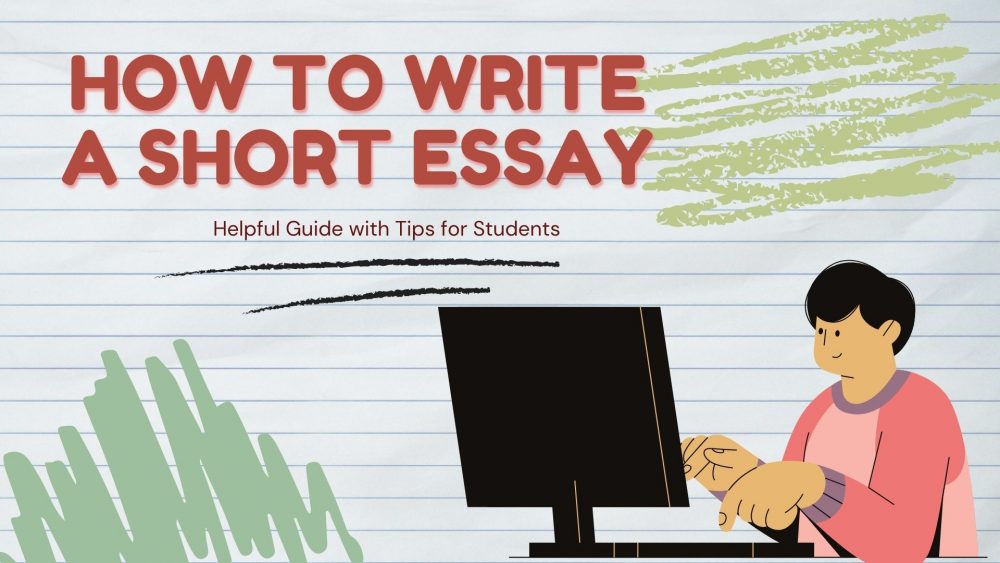 How to Write a Short Essay: Explainer With Tips
An essay is a piece of writing which expresses the author's thoughts on an idea. Essays can be both formal and informal types and they can be about different subject matters. You may write a short essay and you may write a long essay, it depends on the requirement of the essay and what you have to say in it.
As mentioned, an essay can be formal or informal. A formal essay is usually written to people of higher authority, or for important assignments. An informal essay is something more casual, might also be a school assignment, but can also be when you are writing something personal or narrative. Both formal and informal essays can be short essays.
What is Considered a Short Essay?
A short essay should be brief, but remain detailed. This means that while engaging in short essay writing for your schoolwork or any other purpose, you must prioritize brevity without excluding details of your message.
You may not even need to bother about the question: how long is a short story essay, or how long should a short essay be? Most importantly, you need to use the right diction in writing your essay. In every essay, you must introduce your ideas in the earliest paragraphs because an essay should be touching about an idea or introducing one. There are many different types of essays that do this.
Types of Short Essays
There are a variety of essays, and there are mainly four in each category. They are argumentative essays, expository essays, narrative essays, and descriptive essays.
Short Argumentative Essay
An argumentative essay is an essay that argues for a position, and introduces information that supports the argument without confusing the audience or the reader. It is a kind of essay that forms an opinion after profound research into the subject matter, crafts a fact-checked argument, and is capable of compelling readers or the audience to choose a side.
For example, you may be told to write a short argument essay about "online school is the death of education". For an essay like this, you need to choose a side and you must also convince your audience that the side you chose is right.
You will have to do this even if you're writing in support of the argument you might not actually agree with.
Short Expository Essay
An expository essay creates an exposition and explain a certain topic. This could be in the form of mini essays or slightly longer essays. It involves a comprehension of the topic and the ability to communicate your ideas.
For example, If you're told to write about "the danger of civilized society in American society", you need to know about American society before civilization, what is a civilized society, and how American society has fared since the time of civilization.
Short Narrative Essay
If you hope to become a creative writer, you can set up your career by writing an extremely creative narrative essay. You need to be creative with language, as well as have story telling skills. Short essay examples could be a short essay about family, short essay about love, or short essay about happiness. You need to be able to convey your feelings with prose and poetic language which makes it a compelling narrative.
Short Descriptive Essay
This also involves the use of strong diction. It is a creative kind of essay based on the description, in sensory details, of an object or experience. You may be told to write a short essay about success, a short essay about life, or a short essay on leadership.
All these involve a practical encounter with the knowledge of success and leadership for effective writing. This type of writing offers creative liberty to flex your creative muscles.
To write all of these types of essays above, you can stick to the short essay template shared below.
Short Essay Format
Many students like you ask: "how to write a short essay?" You may even ask: what is a short essay length? A typical short essay is around 200 up to 400 words. This is about a page or two, it all depends on your line spacing. The basic short essay template is the introduction, the main body of the essay, and the conclusion.
Introduction: While writing a short essay, your introduction is one of the most significant parts of the essay. It is often a paragraph, no more than 100 words, but it clearly expresses what your arguments are. It must also interest the audience you are writing for. Thus, it must be appealing, precise, and straightforward.
Main Body: If all your short essays will be written in five paragraphs, three of the essays should be the body. The main body contains your strongest opinions and arguments, and they must sync with other parts of the essay. You should use evidence-based statements which make your essay more accurate to the readers.
Conclusion: This is the paragraph that contains everything you've written about in your essay. It is a short recap of your argument, your thoughts on the subject matter, and your report statement. Through these three main templates, you would have successfully written a very short essay as requested by your teacher or professor. If you need further essay writing assistance, you can seek an essay writing website like ENL for essay writing help.
How to Write a Short Essay? Ways of Approach
Now that you know the structure it may interest you to write an essay you love. You don't need to bother about how to start a short essay, you just need to realize that you're free to express yourself in your own words. There are a few components to stick to. They are:
Length of the Essay:
How long is a short essay? How many paragraphs is a short essay? A long essay can be as much as 2000 words or more, it depends on your university or college requirement. The length of your essay will also be inspired by what you are writing on. But a short essay should not be too long. Try and write an outline prior to beginning your essay, and separate it into paragraphs. Include only the most important information.
Statement:
Also usually called a thesis statement, it is a short statement after the introduction which explains the concept of your essay as well as the arguments you want to present. It is used to present the main point of what you are writing about, be it argumentative, expository, even narrative. You have to try and interest the reader, or make it clear what the essay is going to be about. Your thesis will come to you when you do your research. Try and make it narrow so you can write a short essay about it. The more detailed the thesis is, the shorter your essay will be.
Body:
This is where you divide the essay into different categories. If you're writing a short narrative essay, then you dissect your content into different parts/paragraphs where all your ideas are well expressed. Usually each body paragraph will touch upon a different aspect. Jotting down an outlne should also help with your essay structure. Don't overthink this part, because with a short essay it shouldn't be an issue.
How to Write a Short Story Essay?
Writing a short story essay is not difficult. You only need to get the rules right. You can adhere to the rules below:
Write the Story Idea: rather than bother about how to write the title of the story, write the idea first. The idea could be a family dinner or philosophical differences about feminism and polygamy in a Muslim family. You must choose the right setting, both physical and what time it takes place in, for the story.
Character Development: You must know who you are giving voice to in the story as well as the relevance of the character and his or her dialogue. You should feel proud of yourself at this stage as characters can be created from the conversations you have with your friends, parents, or from what you see on TV.
Start Writing: Don't think it will be difficult to write the first line. Just write it. You may start with a philosophical quote; you may even start by narrating the setting of the room or the dull face of the young daughter considered as a bride in a Middle Eastern country. You can make the first line a shock and you can give voice to the voiceless with it.
Create Scenes: Scenes are what make a story a story. They organize it and make it lively and detailed. A scene also helps you give life to your characters. Of course, what you are writing about is what you know. Translating that experience into a story requires telling it as you should tell it.
Do Research: If you feel you don't have enough for the story, do some research. You can do this by reading related books, essays, or seeing related movies. This is the way you can develop your story.
Write and Edit: Write, rewrite, edit. Repeat that process. Before you can present a perfect story, you must have written and erased your words only to rewrite and edit your words. Writing goes through numerous rounds of changing and shuffling for you to create the best piece. It's okay to have multiple drafts. You must only be consistent with your storyline and the characters you are developing.
Submit: if you are submitting the short story essay as an assignment for your class, submit it after many edits. Reread before submitting, and make sure it is formatted correctly.
How to Make an Essay Shorter?
If you've been given a specific word count in your essay, how do you make it shorter after writing more than it's required? Here are some tips you can rely on:
Delete Underdeveloped Paragraphs
While writing, there are some bad paragraphs because the ideas in them are either irrelevant or poorly developed. Removing them by rereading your essay will help you improve the whole essay. The essay doesn't sound boring or pointless if you do this.
Read Your Essay Out Loud and Delete Weak Words or Paragraphs
If you're too weary to read by yourself, you can use Google Translate or any other software for it. Reading your essay out loud helps you spot weaknesses that you can easily eliminate. You can also learn how to make an essay shorter by having a neutral mind to eliminate pointless parts. Don't try to be too wordy when writing a short essay, and make sure each sentence has a point.
Read the Marking Guide
Your teacher or professor already has a marking guide released to you. You can go through it again to know what is expected of you in the essay. Note that the marking guide can also be called "indicative content", "marking criteria", "learning outcomes", or "marking rubric". Whatever it is, get it and use it to judge your essay paragraph by paragraph. You can even ask yourself the question: is this paragraph relevant to the essay?
Reduce Your Paragraphs to about 6 or 7 Sentences
If you're reading a story with long sentences, you may get tired easily. It is the same for teachers. You must stick to short paragraphs and don't stray from the topic, focus on the idea of the paragraph, and explain your arguments without going into complicated details.
How Long is a Short Essay?
A short essay is usually 250 to 450 words.
Many students ask: how long is a brief essay? What you don't pay attention to sometimes is that the requirement can be following your school regulation. However, it is about 250 to 450 words most of the time. Your professor or teacher can even request a maximum of two pages.
Essay VS Short Story
There are differences between short essays and short stories. Some people are already confused about the differences. Consider these:
An essay offers readers an account of a subject matter while a short story unfolds the story as an artistic expression containing a plot.
An essay offers a methodological account of an event while exploring a short essay structure of introduction, body, and conclusion. This enables students to understand the subject with its factual information. A short story on the other hand is a narrative, most often a single plot, that uses characters in its artistic composition.
Another essay vs short story difference is that an essay doesn't use literary devices like satire, irony, metaphor, and many others as an essential part of essay writing while a short story must include those features as a factor that distinguishes the short story from the essay.
An essay can be about the exploration of a topic while a short story relies on the experiences of someone in its telling.
An essay doesn't need a plot while a short story requires it to be built around a definite plot structure.
An essay doesn't require action while a short requires it for plot development.
An essay doesn't need to develop characters while a short story needs to have characters.
How to Write the Title of a Short Story in an Essay?
Don't italicize the title of a short story. While quoting a title of poems, short stories, or essays in your work, it should be in quotation marks instead. You should also use the last name of the author to refer to the writer.
APA Format Short Essay
Every course and institution has its publishing format. A Stanford short essay may also stick to an APA format short essay which has strict rules. They are:
The paper size should be 8.5 x 11, with 1-inch on both sides of the paper
Double-space the paper
Use Times New Roman 12 point
While you can organize your essay anyhow you like, you must limit page headers to words of 50 characters.
You must also use an active voice while sticking with concise and clear expressions.
If you're writing a long essay, you must have a title page, an abstract, the main body, and a reference list.
If you'll reference a book, write it thus: Author's name, year of publication, book title, location of publication, and publisher. Then, you could have something like Marlowe C. (1995). Doctor Faustus. Edinburgh, England: Longman Books.
If you're citing an author in your essay, it should be "according to Charles (2000), would you have robbed me – for no one's enrichment – only for the greater desolation of this world – of the immaterial part of my life…"? Or "would you have robbed me…of the immaterial part of my life" (Charles, 2000) as a direct quote. If you're only referring to what the author said, you can write it thus: "according to Charles (2000), human life is wretched in the hands of capitalist governments.
Want Help Writing Your Short Essay?
The above guide is for students who want to create their essays or short stories on their own. You already learned what is a short essay, the short essay format, types of short essays, how to make an essay shorter, essay vs short story and their differences, how long should an essay be, and lots more.
You can look up short essay topics online for a custom essay idea to start with. You may also consider a fast and cheap alternative to writing your essays. There are experts for hire with affordable rates for essay service for your college or university school work. Through an essay writing website like ENL, you can get experts for professional writing experience in the US.