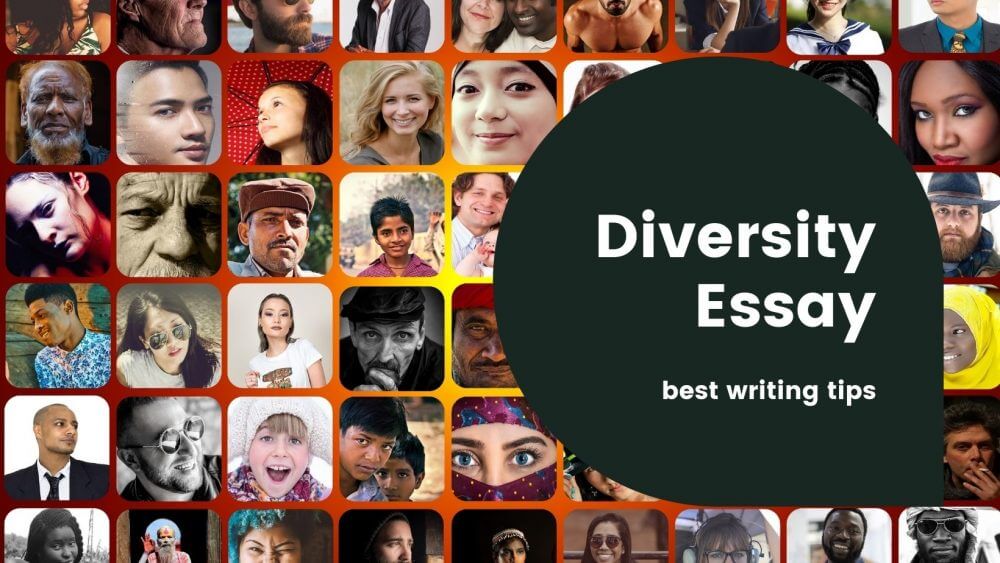 Writing A Diversity Essay: Simple Steps To Follow
Today, every university is striving to have a student body that includes individuals from various ethnic or religious backgrounds, socio-economic groups, and even sexual orientation. This is why a diversity essay is becoming extremely necessary. It helps the university understand what sets a student apart and the diverse views they can hold.
What is a Diversity Essay?
When applying to any university, a student is expected to submit a personal essay and some supplemental essays based on the prompts provided. One of them is an essay on diversity.
This is usually a 500–650-word essay that answers the question, "How can I bring diversity to the college?" A diversity essay aims to establish the different issues or ideas that a student truly cares about. It helps humanize the application and also expand the diversity in an educational institution.
Some colleges and universities may not ask for diversity essays specifically. Instead, they provide diversity prompts in the application, which you will have to respond to in your personal statement.
Common Diversity Essay Topics
You can get some of the best diversity essay ideas when reflecting on your own life and upbringing. The best diversity essay topics are as follows:
Gender
Cultural groups
Ethnicity or race
Values on diversity on inclusion
Cultural diversity in your country
How you can contribute to the diversity
Your views on diversity
Sexual orientation
Socio-economic backgrounds
Diversity in your neighborhood
An organization or club that you work with
The primary goal of your essay about diversity is to help the college understand how adding you to the student group will help them create an inclusive environment.
Diversity Essay Example
I place a high value on the university's commitment to an inclusive campus climate that supports the learning needs of students with a wide range of viewpoints and perspectives. As a student at the university, I believe that I could personally contribute to improving the experience of the campus as a welcoming place to learn. My open personality and my commitment to active engagement both inside and outside the classroom will empower me to accomplish this goal.
For as long as I can remember, it has been easy for me to get along with other people, even those who are much different from me. When I was a young child, I was never shy about meeting new people; instead, whenever I met a stranger, I was eager to learn more about them and make a new friend. In fact, my parents would often find themselves apologizing for me because I was asking too many questions. My love for meeting new people was one of the things that initially made me decide to pursue a career in nursing, and I believe that it will also make me a valuable contributor to the university campus. As I meet people from a wide range of backgrounds with highly diverse academic and personal interests, I look forward to getting to know them and recognizing the value of their unique individual backgrounds and ideas. For me, recognizing and appreciating diversity is not an obligation or a burden. Rather, I view living and learning on a diverse campus as an unprecedented opportunity to interact with more interesting people than I ever have before. Because I am entering my university experience with this positive attitude about diversity, I believe I will contribute significantly to a positive learning environment on campus.
I will also personally contribute to improving the experience of the campus as a welcoming and inclusive place to learn through my commitment to engagement both inside and outside the classroom. I plan to approach my courses from the perspective that I can learn from other students by actively participating in class discussions and studying in groups outside of class, and I believe that my clear willingness to work with others will help to promote an inclusive learning atmosphere. I recognize that every individual I encounter in my courses has faced unique challenges, and working closely with them in my nursing courses will help me prepare to work with diverse populations when I become a nurse. Therefore, I will take steps to engage with as many of my classmates as I can, which I believe will support a positive learning experience for all of us.
I am also interest in making the campus a more inclusive place to learn by participating in a diversity-related student organization that promotes inclusion. As a student at the university, there are many options for me to choose from, and I have not yet decided which group to join, but I know that there are a variety of on-campus organizations that celebrate diversity in a way that supports a more inclusive environment. Therefore, by participating in one of these groups, I will be able to add to the positive at the environment at the university where everyone feels welcome, regardless of their background. When I join one of these groups, I am particularly interested in inviting more diverse speakers to campus, which will further demonstrate that the campus is an open and welcoming learning environment.
Overall, both my attitude and my activities will make me a positive contributor to the university atmosphere. I would love to have the opportunity to add to the diversity on campus as a student in the future.
What Colleges Look For
If you go through any cultural diversity essay samples, you will notice some common features. Every college that asks for a diversity essay looks for certain qualities in a student that these features highlight. These includes:
Authenticity: If you are writing a how will you contribute to diversity sample essay, make sure that you are honest in your views and opinions. If you exaggerate, the admissions committee will see right through it. The goal is not to appear more impressive. It is to present a real understanding of diversity, be it your own or that of fellow students.
Highlight how you are different: Your personal story is one of the best diversity topics to write about. Narrating personal experiences tells the university more about you as an individual. It is also an insight into personal values and your history. The idea is to stand out positively.
Four Simple Tips for a Great Diversity Essay
Highlight Your Unique Story

Diversity is not restricted to religion, ethnicity, socio-economic status, or sexual orientation. You can write how you can contribute to diversity essay by talking about unique perspectives and values, family background, life experiences, personality traits and interests, hobbies, or talents.

For example:

"Hailing from a family of war veterans, I have learned to….", or,

"Through my journey as a dancer, I have had the opportunity to interact with individuals from various ethnic and cultural backgrounds…"

Share anecdotes from your life

There is nothing more personal and engaging than an anecdote. These anecdotes work best when placed right at the beginning of your essay. For instance, in continuation with the examples mentioned above:

Examples:

"Hailing from a family of war veterans, I have learned to be very sensitive to the needs of people around me. As a child, I remember how my father used to instantly understand if anyone in our household staff was having a rough day and was quick to respond to it."

"Through my journey as a dancer, I have had the opportunity to interact with individuals from various ethnic and cultural backgrounds. I remember the first time I was backstage at an international show when I interacted with people outside my country. I was fascinated by how diverse we were, and yet, so similar…'

Create visuals for the reader

As you would see in most college essays on diversity, the best way to appeal to any reader is to share as many real-life stories and personal anecdotes as possible. This shows the reader that you have lived through the experience, making you a more authentic candidate.

Talk about how these experiences have molded your values

In the examples given above, you have a great scope to build into your understanding of diversity and why your background played an important role in shaping your views and opinions. For example, the essay about being from a war veteran family can build into how you became more sensitive to discrimination around you and how you responded to it.
If you need more assistance with interesting, high-quality diversity essays, you can get in touch with a professional. We provide all the essay writing help you need to improve your chances of getting admission into your chosen university.