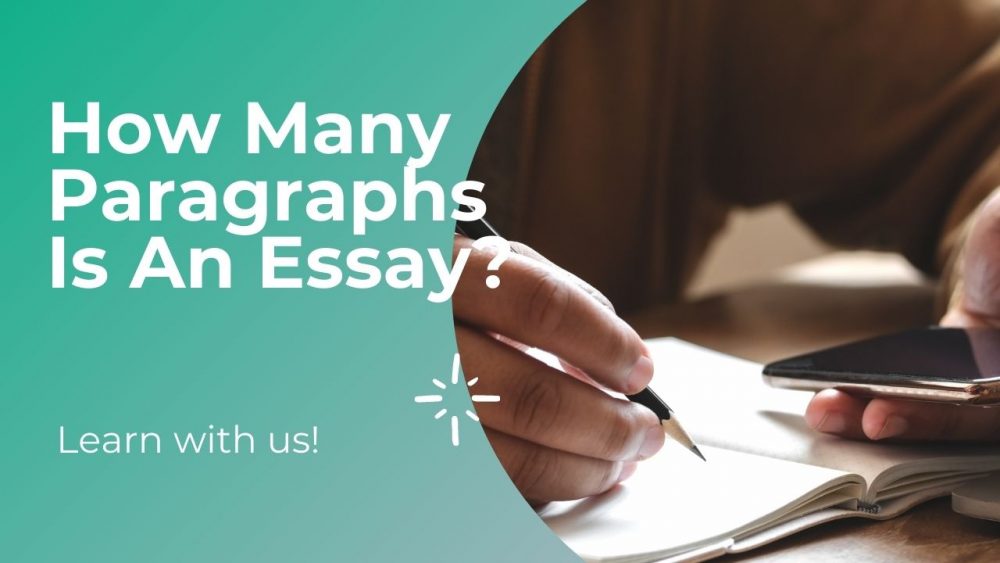 How Many Paragraphs Is an Essay? Let's Find Out!
How many paragraphs is an essay? What is the average accepted length for a paragraph in a research paper? How many sentences should each paragraph contain? These are just 3 of the questions we get from students on almost a daily basis.
Our experienced writers have contributed their time and knowledge to answer all of these questions here. In addition, we will talk about the 5 paragraph essay structure and provide you with all the information you need to write an essay the correct way. Finally, don't forget to check out the FAQ section at the end of this article.
Can an Essay Have 4 Paragraphs?
So, can an essay have 4 paragraphs? We will start by telling you that there is no absolute rule concerning the number of paragraphs in an essay. However, things are a bit more complicated than that. Most professors consider 4 and 5 paragraph essays to be the best. If you submit a paper with just 3 paragraphs, your grade might not be what you are expecting.
In general, an essay should be around 500 words long. Four paragraphs are acceptable for many types of papers, including the compare and contrast essays and the cause and effect essays. Keep in mind that most research papers require 3 body paragraphs, an introduction and a conclusion. This is because the first body paragraph is used to discuss the methods used to gather the evidence that supports your thesis, the second body paragraph is used to present the evidence, and the third paragraph us used to discuss the evidence and draw the appropriate conclusions.
Bottom line, 4 paragraphs are acceptable as long as the essay is written correctly and the topic is covered in depth. If you feel that you should include more information, write a 5th paragraph instead of trying to cram everything into one of the existing sections.
Does an Essay Have to Have 3 Body Paragraphs?
But does an essay have to have 3 body paragraphs? Many essays require the use of at least 3 body paragraphs. If you need to write a 1000-word paper, you can create up to 9 paragraphs for example. However, there is no firm rule that says you need at least 3 body paragraphs. Compare and contrast papers and cause and effect essays, for example, can have just 2 body paragraphs.
One other thing you should be aware of is your professor's rubric. He should have provided you with one. Read it carefully because it outlines all the requirements (and many times the expectations) of your professor. Not following the rubric usually always results in a penalty. If you want to get a top grade, follow the guidelines to the letter.
How Many Body Paragraphs Should a Research Paper Have?
I'm still confused; how many body paragraphs should a research paper have? We know that this information may look confusing at first. We also realize that you've probably read several other blogs or articles that may have presented you with inaccurate information. Your professor probably didn't even bother to tell you what he or she considers to be the right number of paragraphs. So it's up to us to shed some light on this matter. How many paragraphs should an essay have? Here is all the information you need to know about paragraphs:
You can write just 2 body paragraphs for some essays, including the compare and contrast and cause and effect papers. Of course, you need to follow the guidelines outlined in the rubric (if your professor has provided you with one).
More complex research papers should follow the 5 paragraphs essay format. This means that you should have at least 3 body paragraphs. The reason for this is the fact that you need to present the methods used to gather the evidence, present the evidence, and then discuss it. Obviously, you still need an introduction and a conclusion.
In case of term papers, you can have 30 or more paragraphs. The average length of a term paper is 5,000 words, so you simply cannot divide it in just 10 or 12 paragraphs.
In easy reading assignments, paragraphs can be as short as 50 words. Keep this in mind when working on such assignments.
How many paragraphs is a short essay? In general, even a short essay should have 4 paragraphs. They can be small, of course.
Generally speaking, the content in your essay is more important than the number of paragraphs it contains. However, we realize there are many professors who put great emphasis on paragraphs. To make sure you don't get penalized, make your paper at least 4 paragraphs long.
What's the Minimum Number of Sentences You Should Include in a Paragraph?
OK, I now know how many paragraphs in an essay. But what's the minimum number of sentences you should include in a paragraph? This is a very good question. After all, you can make a paragraph longer or shorter. But how short is too short? Or how long is too long? Here is our advice for middle school, high school and college students:
Most paragraphs will be around 6 to 7 sentences long. First, we have the topic sentence that presents to the read what the paragraph will be about (it's like a thesis statement). You will then use the next 4 or 5 sentences to support the topic sentence. Most often, you will want to use another sentence at the end of the paragraph as a conclusion or at least as a transition to the next paragraph.
A paragraph should not be less than 5 sentences in length. This is because you don't have enough space in 4 sentences to introduce the idea, provide supporting information and transition to the next paragraph. A very short paragraph looks incomplete and your professor will surely notice it.
Everything in a paragraph should have unity and coherence. You should discuss a single idea in one paragraph and keep the information organized in a logical manner. Remember that academic writing standards should be adhered to at all times.
The average length of the paragraph can be anywhere from 100 to 200 words. Many students think that a paragraph should be a quarter of a page long (or even half a page long). You should never measure a paragraph like this.
How many paragraph in an essay? The answer to this question is in the previous section, so make sure you check it out before going further in this article.
The 5 Paragraph Essay Structure
What is the 5 paragraph essay structure? How many words are in a 5 paragraph essay? We know you are probably interested in learning more about the five paragraph structure (after all, it's one of the most popular choices for almost any type of essay). First, let's talk about the average length of such a paper. Generally speaking, an essay using this format should have around 500 to 600 words.
Remember that you are not obligated to write just 5 paragraphs. You can include as many body paragraphs as you like, so you can use this format to write up to 1,000 words or even more. However, also keep in mind that going lower than 500 words is not advised because you will have some very short paragraphs (fewer than 100 words can get you penalized). To help you understand the 5 paragraph essay structure, we will discuss each of its main parts.
Here are the sections you need to include in your paper:
The first paragraph: the introduction. As its name suggests, you will use this section to introduce the topic. Start with a hook sentence (our writers can help you with this, if you don't know how to do it correctly). Next, present your thesis statement. This is basically the goal of your essay (what you want to demonstrate or discuss). Provide a bit of background information about the topic and end the intro with a sentence that makes a smooth transition to the first body paragraph.
Write at least 3 body paragraphs. Each paragraph should discuss a single important idea (which needs to be presented at the top of the paragraph in the topic sentence). Use the rest of the paragraph to support the idea. Remember to make a smooth transition to the next paragraph. Again, keep in mind that you can write 4, 5, or even 6 body paragraphs.
Write the conclusion. Even though you may think otherwise, the conclusion is a very important part of any academic paper. It is also required by most – if not all – professors. Not including it will get you penalized. In the conclusion, you will have to restate the thesis and then summarize all of your findings, demonstrating that you have proven your thesis to be correct. The last sentence of the conclusion can be a strong call to action, but this is not mandatory. It depends on the paper you are writing.
Wait, your work is not done yet. You now have a draft essay. It's time for some editing. Go through your work and add additional information where you see fit. Also, don't be afraid to delete sentences that are redundant, off-topic or simply unnecessary. Editing your work will improve your grade, so don't skip this important step.
Now it's time for some proofreading. Go over your paper at least twice and make sure you correct all typos and grammar/spelling errors. These small mistakes can cost you valuable points, so make sure you proofread your work thoroughly. Our advice is to give your paper to a family member or a close friend to get some objective feedback. You'll be amazed how important it can be.
Get Top Notch Writing Help
If you are a high school or university student who needs professional writing help online, we are the company you should turn to. We have many expert writers for hire for any class you can think of. Our high quality academic content will meet even the most demanding professor's expectations. With more than 10 years of academic writing experience, our company is not only cheap but also reliable. Your essay will be ready on time and will be ready for submission from the moment you receive it. Get in touch with us to learn more about how we help students get consistent A's and A+'s on their essays.