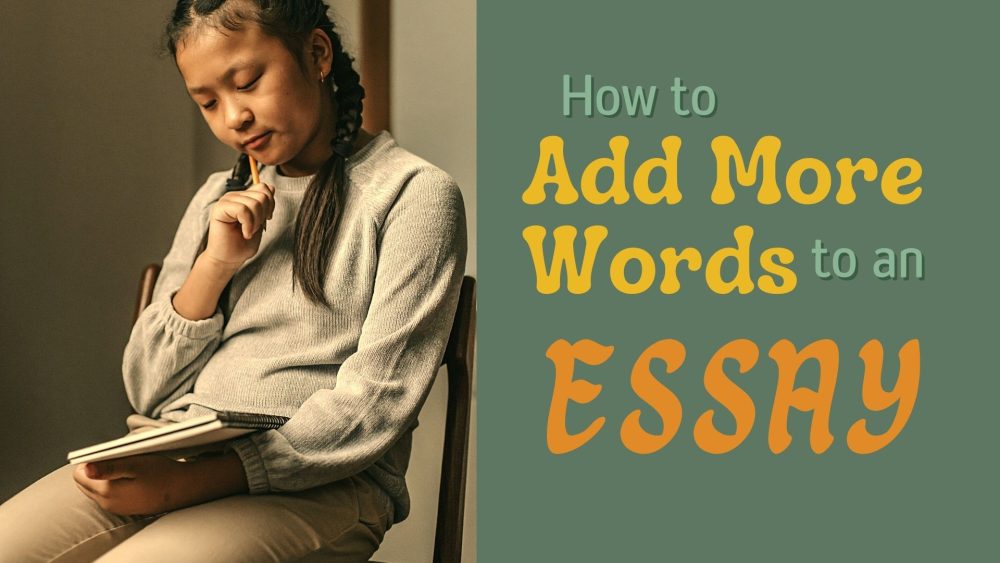 Learn How To Add More Words To An Essay Seamlessly
There are times when essays may fall short of the required number, and the professor requests you to add words to the essay. Now, this may come as a burden, especially in cases where the task was technical. Reading the essay to determine what words to add may seem like donkey work to an already tired mind. That is why we want to show you how to make an essay have more words without going through the said struggles.
To achieve this, we will weigh in on the following aspects:
Describe typical word counts
Expectations of professors on word count
Why word counts exist
Tips and methods on how to increase word count in an essay
Advice on good words to add to increase word count
Apart from the mentioned elements, we will also have examples of essays and essay topics with words you can add to them to extend their word count. You can see that this is a packed article, and therefore getting good grades will be inevitable in the end.
Let us tear into our subject matter with full force!
What Is Word Count?
It refers to the total number of words contained in your essay. The word count is a collection of the individual words that make up your whole essay.
You can determine the word count manually by counting them or using inbuilt software in MS word. To achieve the latter, follow the steps below:
Highlight the whole essay
Navigate to the Review tab and hit the Word Count tab
You will be able to see the number of words in your essay and determine how many need to be added. Knowing how to get more words in an essay may be tedious at first, especially when you are dealing with long essays. You might end up repeating yourself or adding words that do not bring value to your essay. That is why you need experts to help you know how to expand an essay effortlessly.
Typical Word Counts For School Essays
Different essays in college have various standard word counts. The differences are a result of their structure, diction, or technicality. Other factors that determine essay length are as follows:
Subject
Level of study
Departmental guidelines
Specific course requirements
However, it is important to note that essays are shorter than thesis papers, and therefore, there is a specific maximum length. Most lecturers will tell their students the exact length of a particular assignment with clear guidelines, even on the length of paragraphs. The average length for most essays will range between 2500–3000 words or 10–12 pages. Others are as short as 200 words in length.
Nonetheless, here is a list of the standard essay lengths for various levels and subjects:
High school essay: 300-1000 words
College admission essay: 200-650 words
Undergraduate college essays: 1500-5000 words
Graduate school admission essay: 500-1000 words
Informative essays: 500-1000 words
You will note that all these types of essays have varying word counts and thus the need to consult with your tutor before going ahead with your essay. Once these lengths are at bay, you can know how to reach word count painstakingly. The methods of adding words will depend on the type of essay, and the length required.
Various considerations determine how long an essay will be, such as:
The minimum number of paragraphs for the essay
The structure of the paper
How long the introduction and conclusion will be
Number of arguments in an essay
The spacing and font type used
Thus, understanding how to up your word count begins with grasping these concepts. If you still have challenges doing this, do not worry because we will show you how to increase word count with amazing tricks.
Teacher Expectations On Word Count
Most teachers do not put a limit on word counts but rather limit the number of sentences. They do this to ensure that students are attentive to expressing the core message of the essay. When learners focus their thoughts and clearly express an idea, the teacher can follow and award marks accordingly.
Professors discourage students from adding unimportant facts to the essay to elongate it. With most students adding information out of synch with the essay, most teachers find it difficult to understand such essays. As a result, students end up scoring low grades.
In most cases, teachers set a standard and expect every student to conform to it for fairness during grading. Most teachers discourage padding, so we will learn how to pad out an essay.
Why Does Word Count Exist?
Word count has been a key pillar of grading essays and gauging the quality of such assignments. However, it plays a key role in essay writing, as highlighted below:
It encourages students to develop adequate ideas to make their essays interesting
It discourages students from padding the text with unnecessary details and repetition
It makes the playing field level, especially during grading
It encourages the authority of the content
It helps to cut out the unnecessary fluff
It helps students break the essay into smaller bits that are easier to read
Having an essay filler is profitable only when it serves the right purpose. However, when you have an essay expander that does not add meaning, you will only fill space rather than communicate a specific message. That is why word count exists to help manage students by including details that would otherwise have been left out.
There are cases when word count may help our different types of essays and writings altogether. For instance, writing with over 5000 words will tell you that you are now dealing with either a research paper or a thesis.
Tips And Methods On How To Increase Word Count In An Essay
In this section, you will find helpful advice that will steer you towards adding more words to your essay while maintaining the standard quality. It is much easier to add words to a short essay than a long one. In most cases, students will be asked to add words to a shorter essay and cut out words to a longer essay.
However, it is possible to be asked to add words to a 5000-word essay, and this may be an uphill task. These tricks on how to add more to an essay will be of help in such a case:
Adding examples to your essay: Providing additional examples to lists in your essay will help you increase the word count to a great extent. While reviewing your essay, you can identify parts where inserting an example would be essential in supporting a particular claim.
Weigh in on different angles: Addressing different viewpoints will increase your word count greatly. You can learn how to fluff an essay effectively by identifying different stances on the topic of discussion. This option allows you to point out alternative viewpoints in the body and the conclusion paragraphs. You should, however, consider a range of different opinions before arriving at an alternative viewpoint or conclusion.
Making statements in your essay clear: There are times when you might present statements without backing them up with supporting evidence or examples. However, when you have a chance to look for words to make your essay longer, you can insert them. Ensure that the statements you insert clarify the existing sentence and add meaning to the essay. Avoid the danger of over-clarifying statements as they will look like fillers. Use them sporadically throughout your body content to increase the word count without interfering with the flow.
Using additional sources: Having additional sources is one of the best tricks to increase word count. They will not only extend the word count but also add quality content to your essay. However, do not stuff too much information in one paragraph but rather spread them out evenly. Writers who love research will love this method because it encourages them to do what they love most!
Use appropriate quotations: This might not work well for all essays but in cases where you can implement them, then go ahead. Quotations are used to support statements, especially from authoritative persons. Remember to use quotes that relate to the main idea of the essay rather than a single argument. Having several quotes in your essay will help your paper rank top and increase word length.
You can decide to refine the intro and conclusion: During the proofreading and editing stages, point out potential bits of the introduction and conclusion that you can twist into a better version. These two sections of an essay relate greatly, and thus changes made in one section will affect the other. You can choose to increase the length of your introduction by adding more background information. In conclusion, you can increase the length by reviewing more arguments.
Get outside help: If you're thinking: "If only someone could write essay for me," then you should seek out some outside help. Being overwhelmed can harm your productiveness, so don't be afraid to delegate some additional work on your essay to somebody else.
Do not use abbreviations and contractions: These will only shorten your essay and reduce your word count. You can replace the contractions with the longer versions and thus realize that your essay will become much longer.
Knowing how to lengthen an essay word count with these tricks is as simple as extending sleep during the summer holidays. You can do this by yourself through practice and perfect it. However, that does not put away our 24/7 essay help.
Good Words To Add To Grow Word Count
You can use specific words to increase word count on short notice. Always strive to increase word count to make the essay better rather than merely increasing the length of an essay. That is why the choice of words matters, as they determine the resulting quality of your essay.
Some of the short words you can use to increase word count include:
Transitions

In other words
With this in mind
On the contrary

Synonyms and longer phrases

For instance, instead of the word 'long,' you can use 'of considerable length.'
You can replace the word 'soon' with 'in the near future
For 'desire,' you can use 'set my heart on'
Instead of 'triad,' you can use 'set of three.'

Idioms

Pull yourself together
Under the weather
The best of both worlds
There are numerous alternatives that you can choose from to lengthen your essay. The secret is to ensure that whatever words you add do not water down the essay but elevate its standard.
Get Help Adding Word To Essay
You don't need to attend a rocket science class to grasp how to make an essay longer word count, as most students perceive it to be in college or high school. Provided you are a hardworking student ready to go the extra mile; you will find this much more interesting. Nonetheless, we offer unique help with essay word count to those who still have difficulties. Just tell us "do my paper for me" and we'll get right on it. Try our outstanding writers today and see how they will help you achieve your word count in minutes!