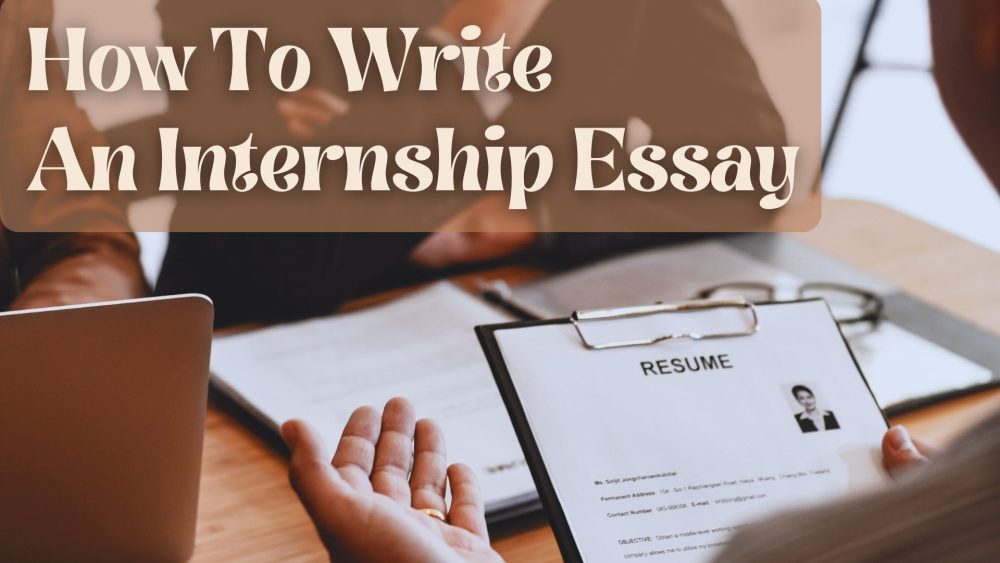 How To Write An Internship Essay: Detailed Instruction
An internship essay expresses the writer's personality past what a reader can glean from other application aspects. It is like a written interview that allows the author to convey their passion for a field or personal motivations. When you know how to write an internship essay, you can stand out from the other candidates by showing your communication strength.
But, what is the purpose of an internship application essay? The primary purpose of this essay is to demonstrate the applicant's outstanding talents while proving they deserve the opportunity. Essentially, you state why you want the internship in the paper.
Apart from providing a career-building experience, an internship can be the stepping stone to your job. Most internship programs require applicants to write an essay and submit it alongside their applications. Writing an internship application essay is like drafting any other paper. This article provides a step-by-step guide for writing this essay and tips to make the task easier.
What is an Intern Essay?
An internship application essay is a paper that reflects the author's interest in a specific institution, their abilities and interests as a student, and who they are in academics. It's what do you hope to gain from this internship essay, telling the readers your goals for applying.
You may require this essay even when applying for a temporary job or an entry-level position in a company. When reading your paper, the selection panel or employer should see your ability to communicate your desires or cravings in writing.
Since this essay presents more profundity than a CV and application structure, it provides a business or employer with concise knowledge of your character. Thus, an all-around, well-written piece can separate you from the other applicants and give you a better chance of securing an internship.
How to Write an Internship Application Essay
Writing an internship application paper becomes challenging when you don't know what to include. Here's a quick guide on how to write this essay.
Preparation
Start by researching the institution to which you're applying for an internship. Familiarize yourself with the institution's ongoing projects, initiatives, and mission. Also, determine how you can help or support the projects or institution. After preparation, proceed to write the essay.
Hook the Readers
Start the internship application essay with an attention-grabbing hook. Remember, the selection panel will most likely have many application essays. Therefore, start your paper with an opening sentence that grabs their attention. Reveal details that present you as a relevant, engaging, and unique individual. Also, make your introduction pertinent to the internship and specific. For instance, you can mention your experience during a volunteering session at another company.
Develop a Thesis Statement
Include a clear thesis statement towards the end of the first paragraph to guide your entire paper. Also, narrow the focus of your thesis statement to the internship you're applying for and ensure that this section makes your piece come out like an internship goals essay by telling the readers how the opportunity will help you.
Disclose Your Strengths
Tell the readers why choosing you will benefit their organization by sharing your strengths. This section should show how the business, company, or organization that allows you to intern with them will help it. While your paper should also tell the readers how the internship will benefit you, stand out by explaining what you will bring to the organization. To achieve this, highlight your qualities or strengths and spread them throughout your paper. Unless otherwise stated, your essay should be around a page long.
Explain Your Experiences
Share relevant experiences with the readers. Your experience could be about a leadership position you once held at a sports team or a babysitting job. However, don't restate your transcript or resume content if you will include them in your application. Instead, please elaborate on your qualifications and skills while demonstrating how they make you a perfect fit.
Show Your Work Ethic
Whether you will work full-time or get a salary, demonstrate that you understand that an internship is a relevant professional opportunity. Therefore, show the readers that you will take your interning like a job. Therefore, adopt a professional and mature tone in the paper.
Conclude Your Essay
Write a brief conclusion summarizing your reasons for applying for an internship and the hope that the selection board will choose you. Also, show your appreciation for the opportunity to apply for the intern program.
Polish the Paper
Read the essay to ensure that you have indicated your skills and interest. Ensure that your paper tells the readers how you will use your skills and experience to help the organization. Also, check for organization, grammar, spelling, and punctuation errors.
If even the step-by-step guide doesn't inspire your mind, you shouldn't worry! We have a team of expert helpers, who will gladly write an essay for money to save you some time and nerves.
How to Write an Essay for an Internship Using a Simple Structure
Following the above guidelines will help you write a winning essay. But, how do you organize your content? Here's a format that you can follow to write this essay.
Introduction
Introduce yourself and your reasons for applying for an internship. Check the institution's vision and mission and how you can be part of it. Also, use the institution's language and ensure that your readers know how you will contribute to the organization.
The Essay Body
The first section of the essay should be about you. Make this part concise, specific, and brief by highlighting your passions and interests. Also, show how these things relate to the institution's work for which you're applying. Show how your experiences and background will benefit the institution.

The second paragraph should highlight your experiences and how they relate to your academic pursuits or studies. For instance, have you done any academic work and worn a recognition or reward? What are your academic skills, like organizing collections, research, and writing creatively or analytically? Have you held other job positions before?

The next part of the body should tell the readers how you will contribute to the organization. How will your knowledge and experiences add to the work of the organization? What are your skills, and how will they assist the organization. For instance, are you a self-starter, a creative person, a hard worker, or a person with an eye for details? Provide examples to demonstrate your skills.

Conclusion
End the essay with a conclusion of around three sentences. Summarize your reasons for applying for an internship with your target institution.
Types of Internship Essays
There are two types of internship essays. These are:
Application essay: This is the paper you write when applying for an internship program. In this paper, you explain your expectations from the internship.
Internship Reflection Paper: As the name suggests, this essay is an internship report or a reflection. Also known as an end-of-internship essay, this piece includes details of the internship place, responsibilities, the challenges you experienced, and your overall impression.
In some cases, educators ask students to write an internship experience essay. They expect learners to write a reflection or report explaining their internship experience.
Tips for Writing an Intern Essay
An internship program may require a student to submit an essay during the application, while another may require it upon completion. The following tips could help you depending on what the educator or the institution you apply for an internship with requires you to do.
Read an internship essay example: This article might have explained what the educator or the institution expects in your essay, but you may need an example to understand it better. Therefore, read a good example to know what to include in your paper.
Include relevant content: Your essay will include information about your personality. However, ensure that only the most pertinent information features in your paper. Ideally, have information that relates to your internship.
Disclose your experiences and education: Tell the readers about your experiences and educational background, like you would when writing a job application letter. For instance, which college or university did you attend? Which program did you pursue?
Share your goals: Tell the readers about your plans and how the internship will help you accomplish them. Explain why the interning will benefit your studies and future career path.
Explain why you're the best fit: Tell the audience what makes you a perfect fit for the internship program. This part should explain your positive characteristics and talents.
Customize your essay: Personalize the paper to suit the internship. That means highlighting your academic, personal, and relevant work experiences according to the program and the required skills. Therefore, use the keywords in the internship listing and include them in your paper to personalize it.
Proofread your paper: You may write a winning essay, but minor errors could ruin it. Therefore, take the time to proofread your piece before submitting it. If you don't have the time to do that, hire experts to proofread or edit the essay.
This advice should help you write a winning paper. But the most important tip is to read a well-written intern essay before writing yours. Perhaps, this internship essay sample will help you.
Get Professional Internship Essay Writing Help
Maybe you want to write a high-quality essay when applying for or after an internship but don't have the time to compose it. Perhaps, you need professional essay help to complete this task without breaking a sweat. Also, writing this paper can be difficult if English is not your first language.
Luckily, our expert writers can help you regardless of your situation. Whether your professor asked you to write an end-of-internship essay or the program requires you to write one when applying, our writers have the necessary expertise to write a unique, high-quality piece for you.
We offer fast, secure, and affordable writing services to learners in all academic disciplines. Don't hesitate to contact us by saying "write my essay today". We will be glad to assist you!