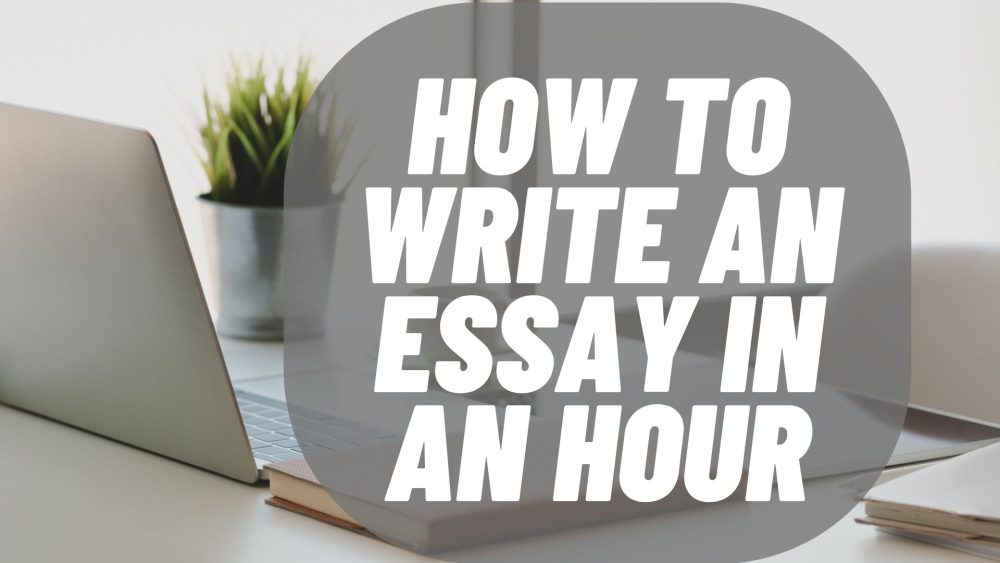 How To Write An Essay In An Hour: Essential Guideline
Many think that writing an essay in an hour is a feat that you can't really achieve. While it's not simple, it's definitely possible. But just how long does it take to write an essay? Often we get more time to write essays. But when you only have one hour, we will show you how to write an essay fast.
As you're reading this article, you may be an avid procrastinator. And that you just realized that your deadline has caught up with you. Often for procrastinators, there's always more than enough time – until there's none left.
Now that you've run out of time, you might begin to panic about your one-page essay. Don't let it stress you. Don't give up, you've got us.
But in case you don't know, you actually have two options on the table when in such a fix. It's to write on your own or to get a professional essay writing service.
Let's assume that you've decided to write the essay on your own without hiring an assistant to help. What do you need to know/do? But before we get to that.
What Makes A Good Essay?
Direction is more important than speed. You can write an essay quickly but deliver shoddy work. So, what even makes a good essay?
Correctness: The kind of English that you use in an essay should be grammatically correct. Sentences need to be complete and free of any sort of errors.
Coherence: Your ideas need to have a logical organization or order. Don't just throw everything around as you wish. The flow should be smooth and make sense. You should also easily make your ideas stick together. In simpler terms, everything that you write down should first make sense to you, and then to the reader. That's how to make an essay good.
Unity: All paragraphs that you write in your essay should be concentrated on the main idea. They should all point towards it. Don't deviate from the primary subject or else you'll risk confusing the reader. In addition, every paragraph should build towards the main point.
Development: As we've stated above about unity, every paragraph needs to expand or support the main idea of the essay. Use illustrations, examples, descriptions, and details to showcase what you need to do about the subject you're discussing in the essay.
Focus: Don't lose your focus when writing the essay. Start well, keep the flow, and use the right ways to end an essay. Have a single prime idea that the essay rotates upon. Every paragraph needs to have one clear main idea. That's how to start off an essay.
The Process Of Writing An Essay Fast
Typically, how long is an essay, and what time will it take you to write it? Whether you want to learn how to write a 20-page paper in one night or how to write a 5-page essay in an hour, one thing is constant – speed. Thus, if you want to write fast, probably in an hour or within just a few hours, here is a step-by-step guide that can help you out:
Step One: Choose A Topic You're Comfortable With
Are you confident with the essay topic that you have just selected? If at all you have the liberty to choose the essay topic, ensure that you settle on one that you're confident and comfortable with. This is particularly important when you're looking for how to write a paper quickly. Choosing a familiar topic will reduce the time you take trying to understand it and even research about it. You will have more time to write the content of your essay, which is what you need when you have a one-hour deadline on your neck.
Step Two: Comprehend The Topic Before Writing
Essay topics are diverse. Therefore, you need to make sure that you have understood the specific one at hand. Learn how to start off an informative essay or an argumentative one. Regardless of the topic that you're handling, you need to be all ready and prepared. Many students fail their essays just because they didn't understand the given topic. Don't add to the statistics. When you grasp deeply the topic under discussion, you won't go off track. Reading questions carefully will help you achieve this effect.
Don't assume that because the essay is urgent, you can ignore the need to understand it first. Preparation is key regardless. Researching the right materials for the essay is imperative. We advise that you use varied sources as a way of comparison so that you get richer content.
Step Three: Create A Thesis Statement
Develop the answer to the essay. Do this by coming up with a short sentence in the introductory paragraph. Your thesis statement should point the reader towards what you intend to discuss throughout the essay.
Step Four: Form Your Outline
Creating a rough outline will help your ideas flow in a specified order. Take the outline like an architectural design of a building. It guides the construction of that building from scratch. A standard essay should have an introduction, three body paragraphs, and a conclusion or wrap-up of your ideas. If you are, for instance, looking for how to write an 8-page paper in 3 hours, then you'd want to create a longer outline. The one we've shown you above is for an urgent one-hour deadline essay.
As you plan to begin your essay, look for the best hook that will capture the attention of the reader from the onset. Use fascinating anecdotes and facts where they fit well. In case you didn't know, most tutors judge the entire essay just from the first paragraph!
Step Five: Compose The Paragraphs
By now, you have seen how to write essays faster. Within the remaining 20 minutes or so, using your sources and the outline, write down the paragraphs. If you find the process too painful and find it easier to just buy custom essays online, you can always ask us for help. But back to what the typical form that each paragraph should take is:

Define the paragraph.
Explain your thoughts in the paragraph.
Give examples.
Explain the examples that you've provided.
End your paragraph while connecting it to the next.

There are basic rules that you can follow for every paragraph in your essay, including:

Use clear and straightforward language.
Make the introduction a hook.
Base your essay on facts and relevant sources.
Be succinct and elaborate when writing your conclusion.

A common rule of thumb is to write the middle of the essay before writing both the introduction and conclusion.

Step Six: Edit And Proofread Your Work
The last step that you will undertake is editing and proofreading. Often skipping this process, or being too casual with it, can cost you good grades. Check for any grammatical errors that may be present within your essay. Punctuation should be done perfectly.
Different learning institutions have their distinct standards, which you need to follow when editing and proofreading your essay.
To avoid handing in a lackluster paper, go through the entire text and if possible, run it through a grammar-checking software such as Grammarly. This step/process should take you not more than 10 minutes to complete.
Golden Tips To Write An Essay In One Hour
When you aim to complete an essay within just one hour, it would be important that you implement these two crucial tips:
Get Rid Of Any Distractions
You have already postponed the assignment for far too long, and you don't want any other thing on your mind. When it's time to focus, you need to get rid of anything that can hinder you from writing the essay perfectly. Start by switching off your TV, then put your phone away from your vicinity. Don't even take any calls or get tempted to respond to any messages from chat heads. On your laptop or PC, close all the tabs with funny pranks you're used to watching every time.It is also important that you turn your stereo off. But for some people, music actually helps in boosting concentration and focus. So, if you must have the stereo on, then just regulate the volume and have it low. A basic tip, nonetheless, is that even when you're choosing music, avoid the ones with lyrics. Music with lyrics often ends up creating a distraction. We would suggest that you pick the sounds of nature or classical music, as this helps boost your concentration.
Ensure The Atmosphere Is Right
You might be asking, "How do you write an essay under such pressure?" Well, whether it's a short essay format or a long one, you need to make sure that you have created an ideal atmosphere for writing. Otherwise, you'd never complete the essay. Setting the right atmosphere involves getting rid of any clutter and spotting the right place to station your work. Comfortable positions vary from student to student. Thus, choose what works best for you.
For some scholars, releasing certain scents into their environment can help them become more productive. Some of the suggested scents to activate the brain include jasmine, cinnamon, peppermint, and lemon.
Note that messes around your workstation can ruin your concentration and bring chaos to your thought process. Ensure you get rid of any dirty plates and cups around. An organized space is a more productive environment.
Costly Mistakes To Avoid When Writing An Essay Fast
We understand that the pressure is high and you're trying your best to beat the deadline. Nonetheless, making the following mistakes can cost you good grades:
Plagiarism: This is a grave mistake. Don't copy and paste or even paraphrases someone else's work. It will make your entire efforts to write futile.
Grammatical And Spelling Mistakes: After you have completed the essay, ensure that you go through it to ensure that there aren't any grammar or spelling issues. Otherwise, this will reduce your final grade.
Using Weak Resources: The kind of resources that you use in your essay holds a lot of water. Ensure that the resources you utilize in your essay come from experts in the academic niche.
Lacking A Strong Thesis Statement: As we had hinted earlier, a thesis statement is particularly crucial to the success of your essay. It will determine whether or not the reader gains interest in your writing. Therefore, spend some extra time on it to ensure it's perfect.
Get Professional Essay Writing Assistance
Perhaps you sat down and wondered how to write a one-page essay in an hour and said, hey, why don't I just hire someone to write my essay now? Well, the good news is that you can definitely get professionals to work on your essay with a short deadline.
It would be best to get native speakers who are available 24/7 to take on your essay assignment. We pride ourselves in providing the best native writers who will create unique and engaging content for students any time and day of the week.
No matter the instructions your teacher or university has given, we will strive to deliver an informative and fact-based essay. It will definitely land you a good grade in your class. Our service is the surest way how to write an essay quickly and still maintain top quality. Don't get stuck when you can get assistance with your tight deadline.
As you have seen, whether you have a short essay or a long essay, it is possible to complete it in one hour. When writing a fast essay, please consider the tips and tricks we have given you above to develop good-quality writing.
Nonetheless, our advice is that when you need to deliver an essay urgently, it would be a wise move to get assistance. As usual, we are always ready to help you complete your text in time, even when time is not on your side. Reach out and let's take control of the situation.