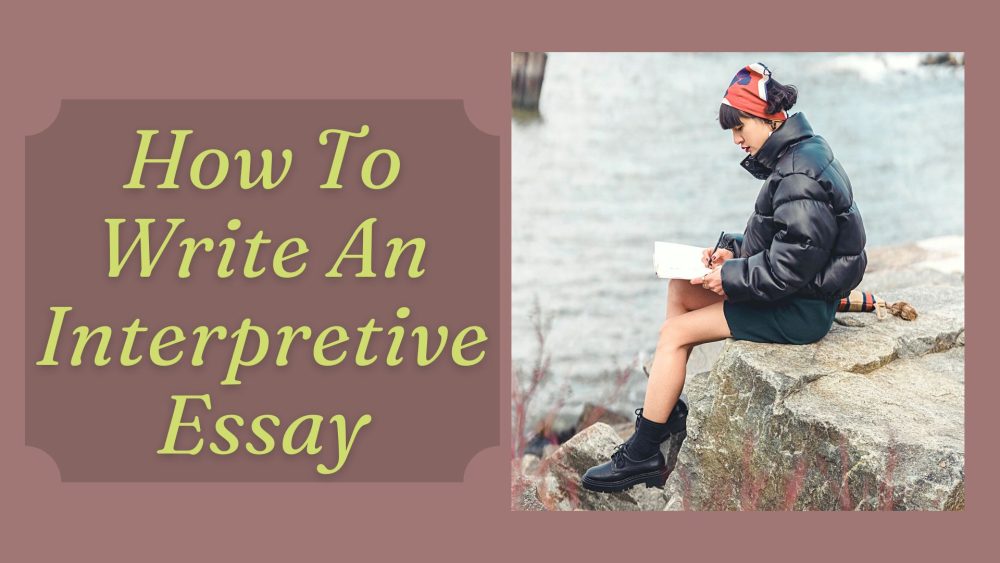 How To Write An Interpretive Essay That Is Interesting And Engaging
When you hear the term "interpretive," what comes into your mind? Some think of fortune telling, but as a student, this is associated with academic papers and essays. Indeed, interpretive essays are pretty common, especially for students taking literature and language-related courses. College teachers like these assignments because they test a learner's comprehension of different concepts, but how to write an interpretive essay is always a major challenge for students.
So, how do you write a good interpretive essay for top grades? Keep reading to learn more, including the interpretive essay definition and the best format to use. We will also highlight the main steps to follow when writing the essay and list examples of interpretive questions.
What Is An Interpretive Essay?
As the name suggests, it is a category of assignment that requires students to analyze or construe a subject and provide meaning. It identifies, evaluates, and analyses specific methods that are employed by an author in his/her writing. Unlike a critical analysis essay, an interpretive essay only requires focusing only on one or several elements of a book, poem, or book. For example, the interpretive essay question of prompt might require you to explore the use of metaphors in a specific poem or play.
When writing an interpretive essay, you are allowed to give a personal opinion. This implies that there is no "right" or "wrong" answer because you only explain your thoughts about the item of focus. Therefore, how does one interpret a written work? You must develop an interest in the subject/ topic, have profound knowledge about literary devices, and carry out thorough research.
If you still find preparing an interpretive argument challenging, one of the approaches is choosing something that is interesting. For example, what was the most interesting theme, character, or setting in the selected book or play?
Things You Should Include In An Interpretive Essay
Now that you know what an interpretation essay is all about, the next question will likely be, "what do you need to write it down?" There are four important things that you need to make your essay stand out:
A Thoughtful Thesis
Like other types of academic essays, your thesis should have a clear thesis statement. This can be one or several sentences that tell readers your point of view. You should create the thesis after reading through the play, novel, or book under consideration.
Balance
As you work on any interpretive essay, the reader wants to get a professional presentation. As a school assignment or project, you have to be extra careful and ensure the work is balanced. This means the introduction should be brief while the main points are captured in the body. Then, the conclusion should also be brief because the reader has already gone through the main points. It will be a good idea to check and read the best interpretive essay example in the library to learn how to strike a balance in the assignment.
Clear Transitions
To make your essay more amazing and scoop the best grade in your class, content alone is not enough. In addition, you need a clear flow from the start to the end, which is only possible through using transitions. Make sure to utilise words such as "first," "second," "besides," "against" and "next," among others.
Personality
Adding some personality to your essay can help to make it more enjoyable to read. For example, you might want to add some humour when discussing characters in an interpretive essay. Using rhetorical questions can also make the essay win you more points.
A Step-by-Step Guide On How To Write An Interpretive Essay
To write an amazing interpretive essay, it is paramount to stick to the right procedure. So, here are the main steps that you should use to prepare an A-rated essay.
Step One: Read the Publication and Note the Main Points
When you get the prompt or interpretive question from your lecturer, the first thing is reading the novel, poem, or story under consideration. A good example of interpretation essay prompt might be "using the play Macbeth, determine the main theme and its suitability." Even when you are asked to only focus on a specific chapter or character, it is paramount to read through the entire publication and note the main points.
Step Two: Prepare an Interpretive Essay Outline
This is a very important component because it tells the points to discuss at what instance in your paper. In most cases, the interpretive essay format takes the standard outlook: introduction, body, and conclusion. You might want to check another interpretive analysis essay example to see how experts did theirs too. Note that if your college teacher has a preferred format, it is paramount to stick to it.
Step Three: Write the Introduction
Once you have identified the elements to include in the essay, created an outline, and written the thesis, it is time to get down with the introduction. Try to make the introduction as interesting as possible to arouse the interest of the reader. In the introduction of an interpretative essay, you should include the following components:

The author's name.
Title of the literary work.
The literary element that will be interpreted.
A hook statement.
The thesis of the essay.

Note: The introduction should be short and to the point. You might also want to consider writing the introduction as the last item. This can help you make it more comprehensive and interesting because you will have read and presented all the points in the essay.

Step Four: Write the Body Paragraphs
The body of the interpretive essay is the largest part and should be broken down into individual paragraphs, with each discussing one point. Unless your teacher specifies in the prompt, you do not have to stick to the five-paragraph design for the essay unless your teacher insists on it. Furthermore, you should focus on ensuring that every point is presented well.So, start by highlighting the interpretive claim and use the subsequent statements to support it. Make sure to use quotes picked from the book, play, or poem for demonstration. Also, do not shy from giving a personal view to bringing a reflection of the thesis statement.
Step Five: Write the Conclusion of the Essay
The last part of an interpretive essay is the conclusion, and it should be used to summarise the main points presented in the body. Here is an example of a conclusion for an interpretive essay for the book, "Do Not Judge a Book by Its Cover."

The book "Do not Judge a Book by Its Cover" is a crucial aspect of the world today. John Simpson, the author, sheds light on different ways that people use to treat others. But it is ironic to a great extent because he approves this judgement depending on the status. Furthermore, he emphatically nullifies being inhumane. Therefore, it is prudent to treat all people equally in order to help make the world a better place."
Mistakes You Must Avoid When Writing Interpretive Essays
Once you get the interpretive essay definition and preferred structure, it is crucial also to note common mistakes that students make. Here are the main ones and how to avoid them:
Writing a summary of the essay you are working on: As we indicated in the definition, the goal of interpretive essays is the use of a specific element and not summarising the main points.
Simply listing the main points: While it is true that you should identify the main points on the use of the selected item in a book or poem, failing to explain them can be a big mistake. In addition, you must give further explanation to get maximum points.
Using conjectures: Conjectures are propositions that are not based on proof, and you should avoid them when writing interpretive essays. Instead, every point should be backed by proof from the publication under consideration.
Expert Tips To Make Your Interpretive Paper More Outstanding
Finally, here are some tips that might help you in writing your interpretive essay:
Ask Important Questions: As we have demonstrated above, preparing an interpretive essay requires a comprehensive understanding of this category of assignment. So, start by asking the big question, "What is an interpretation?" or "what is an interpretive question?" Answering this question can help you to build on the definition, making it possible to be more critical and win additional points.
Read widely to sharpen your skills in writing interpretive essays. Even with a writing guide, many students still find preparing good essays an uphill task. Therefore, it is prudent to practise by reading other examples, especially those done by experts.
Make sure to proofread your work carefully before submitting it for marking. Even if you work so hard on an essay but leave some mistakes, there is a risk of losing points. Therefore, proofread the work to ensure that the work is error-free, adheres to the teacher's instructions, and all the points flow seamlessly.
Start the assignment as early as possible. Instead of waiting until the last minute and working on the essay in a hurry, consider starting it as early as possible. This will give you time to read the essay under consideration, practice, and prepare the best paper.
Examples Of Interpretive Essay Questions
Interpretation is the process of examining the contents of a story and relating to it. This is the first thing that strikes the mind when reading a text. An interpretive question is a type of inquiry that has an answer which you can support with evidence from a publication like a book or journal. Remember that, in some cases, your claim as a reader might be different from that of the author. Below are some examples of interpretive questions you can consider, or you can buy a custom essay that has a good one.
What is the ending in Margaret Edson's "Wit?"
What do children symbolise in Peter Pan's book?
Focus on magical powers. What do they mean in Harry Potter?
What is symbolism in the play, Romeo and Juliet?
What is the main theme found in the play Macbeth?
What are the main life lessons in the play Death of a Salesman by Arthur Miller?
What do you think was the main goal of the writer when writing this book?
How safe was the film titanic?
How effectively does the author use metaphors to reveal irony in the play Raisin in the Sun?
Why did Shakespeare use the conflict between love and self-interest as the main theme in the play The Merchants of Venice?
Seek Our Experts Assistance To Write Your Essay
This "how to interpretation essay guide" has demonstrated the mechanics of preparing an A-rated paper but are you ready? Many are the learners who find the process pretty hard because of poor writing skills or lack of time. If the book, poem, or play under consideration is controversial, writing an interpretive essay can be more challenging. Now, you have a reason to smile because no matter what is making the process tough, our essay writing help service is waiting to offer a hand. "Who can write my essay today?" is a question you won't be asking anymore!
We have professional and reliable native English writers with a lot of experience in handling interpretive essays. No matter the question or essay prompt, our experts are contemplative and guarantee you high-quality work for top grades. Our services are also safe, affordable, and easy to access for all students. So, no matter the time of the day/night, know that an expert is waiting to offer the assistance you need.