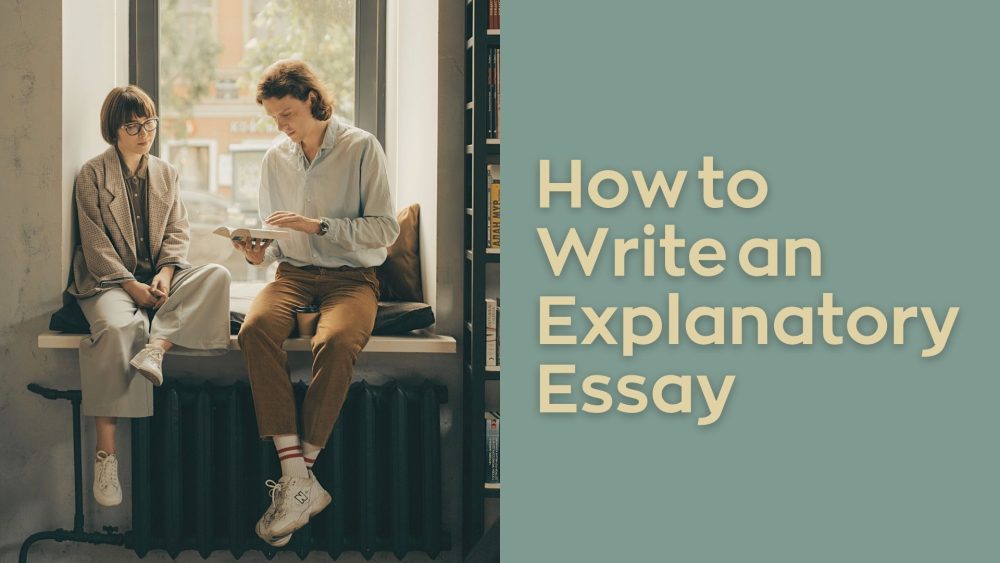 How To Write An Explanatory Essay Like An Expert
Do you have an explanatory essay to write and have no idea how to go about it? How to write an explanatory essay can be challenging because it requires a specific structure and careful framing of every section. If you have a poor grasp of the topic under consideration, the process can turn into a nightmare, but you can now get a sigh of relief since we are here to help.
This post is a comprehensive guide detailing how to write a explanatory essay for top grades. Keep reading to get the best explanatory essay outline and step-by-step details on how to write every part. By the time you are through with this guide, we can guarantee one thing: a convenient and workable solution to get A-rated work. Why settle for less?
What Is An Explanatory Essay?
It is a type of academic writing where the student presents a point of view on a specific topic, situation, or event. Although many students prefer to present the view they agree with; it can also be one that you do not agree with. However, you must support the viewpoint with facts.
An explanatory essay is used to help students learn how to present information about a situation or subject without criticizing or deliberating its validity. It also helps the writer to read widely on the topic, analyze the available facts and present it with utmost clarity.
One mistake that is common with many students is the perception that they need to defend one side when preparing explanatory essays. Instead, you need to approach it from a neutral point. Your focus should be to clear confusion and present a coherent explanation of why things happened as they did. Let's put it this way: people reading your explanatory essay do not have to agree with the info presented therein but only get answers to the topic under consideration.
How To Write An Explanatory Essay
Writing an explanatory essay is like educating people on a specific concept, which calls for a clear understanding of the topic, developing a good outline, and presenting the key points in a flawless manner. Let's take a closer look at the finer details on how to write explanatory essay for top grades.
Choose the Topic for Your Explanatory Essay

This is the first step of writing an explanatory essay and it entails selecting the right idea or topic. To get a good start, consider selecting a topic that is as clear and that you can get materials to support the selected viewpoint.

It will be an excellent idea to select a topic that is not controversial so that you are as neutral as possible. Therefore, brainstorm and prepare a list of interesting topics before narrowing it down to the one that is ideal for you. Remember that if your school teacher or professor has recommended a specific area, you have to stick to it:

Here are five suggestions:

How did the state you live in become part of the United States?
What animal is the best pet for young girls?
There are so many definitions of family. So, what does family mean to you?
The most important events that led to World War II.
Describe the events that can help to halt global warming.

How to Start a Explanatory Essay

After selecting the topic, it is time to get started. Before you can hop in to craft the introduction, it is important to start by selecting the materials that you will use for the essay. It is advisable to go for the materials that are up-to-date to make the essay relevant.

In most cases, colleges insist that only materials no older than five years should be used. Unless otherwise stated or when dealing with specific topics, especially in history and classic subjects that require digging into archives, go for the latest journals, books, and articles.

To prepare high-quality papers, make sure to do comprehensive research using the selected resources. Carefully pick the best points to support the selected viewpoint, capturing numbers, quotes, and figures that offer vivid explanations about specific topics/situations to readers.

When getting started, this is an excellent point to look at the guide from your professor, directions from expert writers, and examples of top-rated explanation work. This can help you improve your writing skills to increase the chances of getting a better grade.

Then, prepare the outline of the essay before starting writing.

Write the Explanatory Essay Introduction

At this point, you already have the right explanatory writing definition, topic, key points, and resources, right? So, it is the perfect moment to hop into the introduction, which is very important in setting the stage for the entire paper. There are three main components for an essay introduction, a hook, background information, and a thesis statement.

Hook: This is the opening statement of the essay, and you should use it to grab the attention of the reader.
Background information: When the reader sees your topic, he/she will want to know more about it before reading the body. So, use a sentence or two to capture the most important background of the topic. It is like you are answering the big question, "why is this topic important?"
Thesis statement: When preparing an explanatory essay, you might have come across the term "thesis statement." So, what does an explanatory thesis statement do? This is a statement that shows your viewpoint on the topic or situation under consideration. Remember to be careful because you must be neutral in the presentation.

Hint: Experts pen the introduction as the last item when writing an explanatory essay because they will have read all the necessary materials and interweaved the main points.

Write the Body of the Explanatory Essay

In the explanatory essay format, the body takes the bulk of the work. The points that you prepared at the start of the paper should now be presented here. Make sure to organize the points well so that each of them takes its own paragraph.

In each paragraph, you should start with a topic sentence and use the subsequent sentences to support it. In a standard essay, the body paragraphs should be three. If you are preparing a lengthy essay that will require more than three paragraphs, consider breaking the work into smaller sub-sections.

Finish the Explanatory Essay with the Conclusion

After reading your body, you do not want to leave the reader hanging. So, close the essay with a conclusion that is interesting and informative. This should have three core components. First, you should restate the thesis statement of the essay and then summarize the main points. Try to make the summary as short and concise as possible. The last item of the conclusion is the overall concluding statement that explains the value that you logically defended in the paper.

Note: You should not introduce new points in the conclusion other than the ones you discussed in the paper.
Sample Explanatory Essay Outline
Here is a breakdown of an explanatory essay structure that you should consider for top grades:
The topic of your essay: Select something that is interesting and with ample resources to support your viewpoint.
Introduction: Make it interesting and grab the attention of the reader, making him/her want to read more.
Body: This should consist of three paragraphs, with each presenting a separate point. Start from the weakest to the strongest. Ensure to use evidence and quotes, and demonstrate why each of them is important.
Conclusion: Use this part to wrap up the paper.
Good vs Bad Explanatory Essay
As you continue working on the explanatory essay, it is important to understand the dos and don'ts to avoid losing marks that could have otherwise gone into improving the grades. To do this, here are the attributes of a good vs bad explanatory essay:
A good explanatory essay should have:
A well-defined topic.
The introduction should be interesting.
The points should be comprehensively researched and informative.
Your viewpoint should be professionally presented.
Plagiarism free.
Adheres to the formatting guidelines provided by your teacher or professor.
A well-defined structure.
Good transition between paragraphs to make it easy to read.
A bad explanatory essay is likely to depict the following:
A topic that is not coherent with the points presented in the body.
Poorly done introduction.
Poorly done paragraphs with no transitions.
Not deeply researched. The points presented in the paper do not clearly explain the thesis.
Not formatted with the guidelines from the university professor or class teacher.
Useful Tips And Tricks To Make Your Essay Stand Out
The most notable trick that expert writers are likely to emphasize so much is in-depth research of the topic at hand. If you're thinking "I have to write my essay today" make sure you do at least some research first. Here are other tricks that you should use to make your work stand out:
Make sure to comprehend the explanatory essay definition before getting started.
Start by preparing a draft explanatory essay and improve it along the way to get the final copy.
Put a lot of effort into proofreading after writing the paper. This can help you identify errors that can result in losing marks. Asking a friend to come in when proofreading and editing the work might be very helpful in ensuring every sentence and paragraph is grammatically correct.
Ensure you progressively build your skills for writing explanatory essay and other types of academic work.
Do not hesitate to check how other top writers did their essays.
Use Expert Essay Helpers For A-Rated Work
Now that we have demonstrated what is a explanatory essay and tricks needed to get the best grades, are you ready? If you are not, perhaps because of limited time or poor writing skills, among others, consider seeking the help of our expert writers online.
We offer online writing help for college students and have qualified native English writers with years of experience preparing high quality custom papers for clients. Therefore, you can also count on them to prepare the best papers for top grades. No matter how tough the topic appears, our ENL writers can complete the essay and deliver high quality work. In addition, you can use our services for all other academic writing needs.