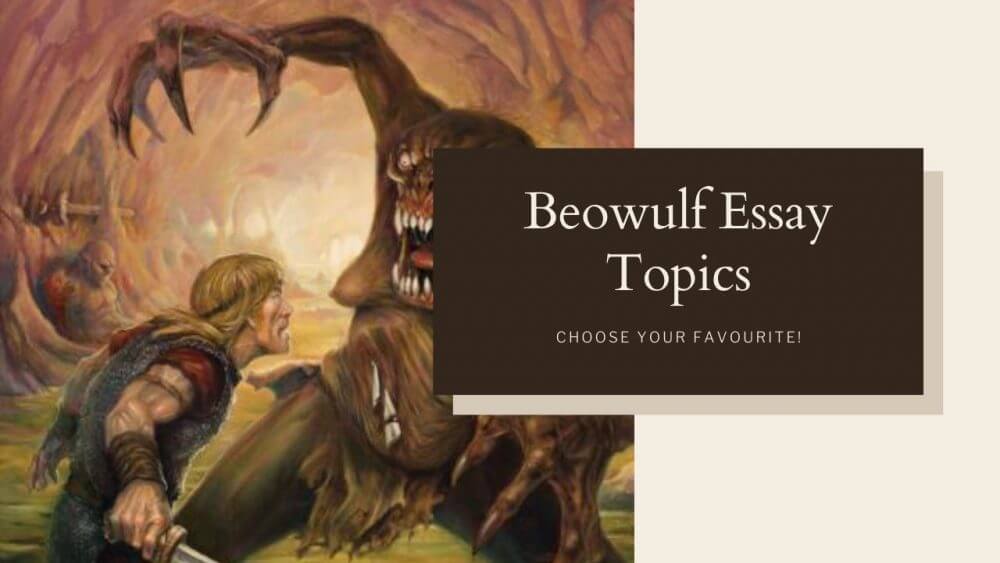 Hot 45 Beowulf Essay Topics For Any Taste
Beowulf is an interesting story that is mostly liked by young students all around the globe as a great chunk of students finds medieval literature and history fascinating. The epic little details capture their imagination, which then gives life to the piece of literature.
However, reading a poem or story is something that is liked by college and high school pupils, but writing on it can be a very challenging task for some children, especially those who are writing an essay for the first time. This is why we decided to put together some easy and good Beowulf essay topics along with Beowulf themes.
Themes of Beowulf
There are three basic themes in the poem, and knowing them will help students in developing a better and clearer understanding of the poem, which in turn, will make writing on it even easier for them. Here is a list of all three themes in Beowulf.
The significance of creating individuality
Strains amongst the valiant code and other value systems
The variance between a worthy warrior and an upright king
If you get a hold of these themes and clearly understand the concepts and story behind them, you can easily write on any essay topics about Beowulf.
Beowulf Essay Topics Questions
Do you think you can call Beowulf characters 'modern'?
In what ways do you think the characters influence the story as a whole?
What different lessons do the songs of Siegmund and Finn teach you?
Do you think Beowulf is good enough to play as a king as well as a heroic character?
Beowulf falls short of direction skills in the poem. Spot where and why.
Beowulf society has a very heroic culture and traditions. What role do you think a mother plays in maintaining that heritage?
What is the correct bond amongst a soldier and his lordship?
What are the different characters in the general story as it moves forward?
Beowulf Analytical Essay Topics
Analyze the Anglo-Saxon society and define in detail how the concepts of evil and good are presented in Beowulf.
It is widely believed that Beowulf was written by a Christian monk. Read and analyze the literature and describe how the Christian elements in the poem affect the overall story.
Analyze if and how women play an important role in Beowulf society and what lessons can modern women take from them.
Perform a complete analysis of the monsters of Beowulf. Study the qualities of all three monsters and determine why the poet has given human qualities to Grendel and his mother.
How do you think the concept of mortality affects the Beowulf society and the overall poem?
Scrutinize Beowulf closely and write an essay on his heroic qualities.
Consider Beowulf a Christ figure and compare him with Jesus. Comment on the similarities as well as differences and state how they are both heroic.
Analyze Beowulf's fights and write about how the character evolves over the course of the poem.
Gold plays an important role in Beowulf. Compare how money plays an important role in today's society with how gold mattered in Beowulf society.
Examine the consequences of seeking revenge in the Beowulf society and suggest other ways that can help solve problems.
Study the Beowulf symbols and comment on their importance.
Do a complete analysis of the Beowulf society and compare it with today's society. What lessons do you think we can learn from Beowulf?
Beowulf Essay Topics For High School
The restoration of Grendel's mother receiving the update of her son's death
The identities of Beowulf as a brave warrior
Comment upon Beowulf's concern for his glory
The perception of women in the gallant culture and tradition of Beowulf
The significance of heredity as comprehended in the poem
Beowulf's personality traits in the epic story
Beowulf's opinions over the course of the story
Comparison between the negative and positive traits of Beowulf
Comparison between how Grendel's mother grieves for her son to how a human mother mourns
Christian and elements from other religions in Beowulf
The archetypes in the poem and how they affect the story
Beowulf and the Odyssey deeds and triumphs
Comparison between heroes: Hercules and Beowulf
Comparison between the Beowulf movie and the Beowulf poem
Correlation between Canterbury Tales and Beowulf
Comment on the hand to hand combat of Beowulf and describe how it made Beowulf's victories possible.
Explain why Beowulf fought the dragons and what it meant for his kingdom
Describe how gold and treasure influence the actions of people of Beowulf's kingdom and draw a comparison of how money affects the modern world and people's actions and choices.
Describe how Beowulf's people accept his demise, knowing fully about the threats it might bring to his kingdom.
Write an essay on how Grendel's mother enacts her revenge even when she is in a less powerful state.
Which of all the Beowulf's fights did you find most interesting and why?
In your opinion, what are the basic qualities that a leader should possess?
Do you think Beowulf was a good leader or not?
Suggest ways in which Beowulf's character could be made even stronger and better
Do you think Beowulf should have fought with the dragon or not?
Give an overall account and summary of the entire poem.
These were a handful of topics to give you a head start and provide writing help. Hopefully, they helped in giving you an idea of what you need to write.