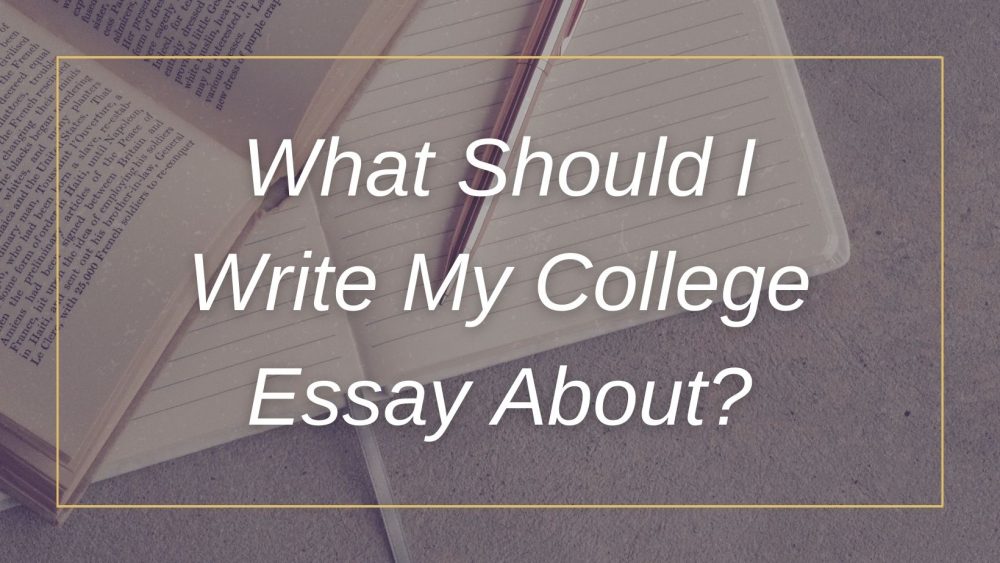 What Should I Write My College Essay About? Here's The Answer!
Are you staring at a blank sheet wondering 'what should I write about in my college essay'? Well, the first thing you need to know is athat you are not the only one. Many students struggle with college essays every year and are perplexed about what should a college essay look like. While college essays or personal essays as they are known as are an integral part of a student's application, they are often very daunting to write.
That is why we have put together some tips as a guide. It aims to lend you a perspective into what colleges are looking for in your personal essay and how to ace it.
What Makes A Good College Essay?
Writing a good college essay does not necessarily mean being perfect. Here are some pointers that answer the most critical question— how to make a good college essay:
Experts believe that any essay that showcases the student's personality and voice always makes a mark on the reviewers.
A good college essay talks about the student's interests, aspirations, goals, and inspirations while tying them all together to the course they seek and why.
Focus on what you want to write about and invest ample time to pick the right topic.
As crucial as your topic is how you present it. Concise, crisp, to-the-point write-ups that have an excellent flow tell your story and read well to make a great impression.
Your essay should tell the reviewer things about you that they would not learn from your resume, letters of recommendation, or other associated documents.
How to Choose A College Essay Topic?
Essay topics deserve careful and deliberate selection. Always pick a topic that matters to you and offers ample scope to showcase your personality. Here are some of the approaches you can:
Picking personal topics to write about:
This could include sharing insights to your personality, your drive and ambition, your hobbies, or some personal experiences that shaped you. Just be honest here and make sure you can tie it all back to your personality and beliefs as an individual.
Examples –
How my love for toy cars led me to study automobile engineering
My passion for environmental conservation
Opting for topics that challenge a belief:
Such topics can talk about when you challenged a common belief among family, friends, or community. It could also be when your own belief was challenged and how you dealt with the situation. In either of the situations be very specific as vague details can be detrimental in this case.
Examples –
How taking a stand for those less privileged became important for me
I learnt managing your own business is not always the right approach
Topics that showcase problem-solving:
Under such topics, you can highlight a problem that was either plaguing you or those around you. Elaborate on how you identified and eventually solved it. Such topics are a great way to showcase a mature mind that introspects and solves. These could be problems leading to personal growth or transformation as a community.
Examples –
My solution for being a vigilant neighborhood
I set up an economic rainwater harvesting set-up for my mom
Topics on overcoming obstacles:
Such topics lend the reviewers a great insight into your personality, how you deal with challenges, and persevere. It is alright to talk about your struggles and your way out of them.
Examples –
Breaking away from bad company and fighting my demons
How I overcame failure and became the top scorer
Tips on How to Write A Good College Essay
When it comes to writing college essays, students often panic — "I have nothing to write about for my college essay" or "I don't know how to start my college essay".
What many forget is that the best college essays were not written in a day. The essays that stand out have taken months of effort. Here are some tips to write the best essay for college and how to make an essay interesting –
Start well in advance so that you have ample time to edit and amend.
Brainstorm on topics with friends, parents, or a teacher. Compile a list of interesting ideas to pick from.
Write down your strengths, achievements, contributions, and responsibilities before you start. This way, you will know what to highlight.
When writing essays about yourself for college, be cohesive in your thoughts. Too many disjointed thoughts, multiple aspects or incidents hamper the flow.
Arrange your thoughts chronologically as though you are narrating a story in a sequence of events as they happened.
Talking about your short term and long-term goals or what motivates you is a good idea.
Target the college's academic niche that you are aiming for and elaborate on why you can be a good fit.
Take help from a mentor. There is nothing wrong in using the magic words 'I need help writing my college essay'. The second pair of eyes is always a good idea.
What Not to Write About in A College Application Essay
If you are wondering what to write about in a college essay and what not to, it is essential to understand what never works in a personal essay. Here is a list of what you must never write –
Criticism of others, any institute, or race never works. It only reflects poorly on you.
Never blame your failures on others when writing an essay. Excuses do not work.
Do not repeat information that you have shared elsewhere in the application documents (your test scores, certifications etc.)
Stay away from bragging or making false claims to sound impressive.
Never submit a low quality, unedited copy. Always proofread your work.
Steer clear from plagiarized work.
If you still feel your college essay is falling short despite all the trying, you can take help from expert writers for hire.
We often get approached by students with requests like – "help me write my college essay" or "I am stuck! please write my college application essay." We believe that the whole process of college admissions can become very overwhelming and stressful, especially with little time at hand.
That is why we offer high-quality writing help to students. Our professional team of writers offer cheap and affordable assistance to help you sail through this process with confidence. Feel free to contact us today to learn more.