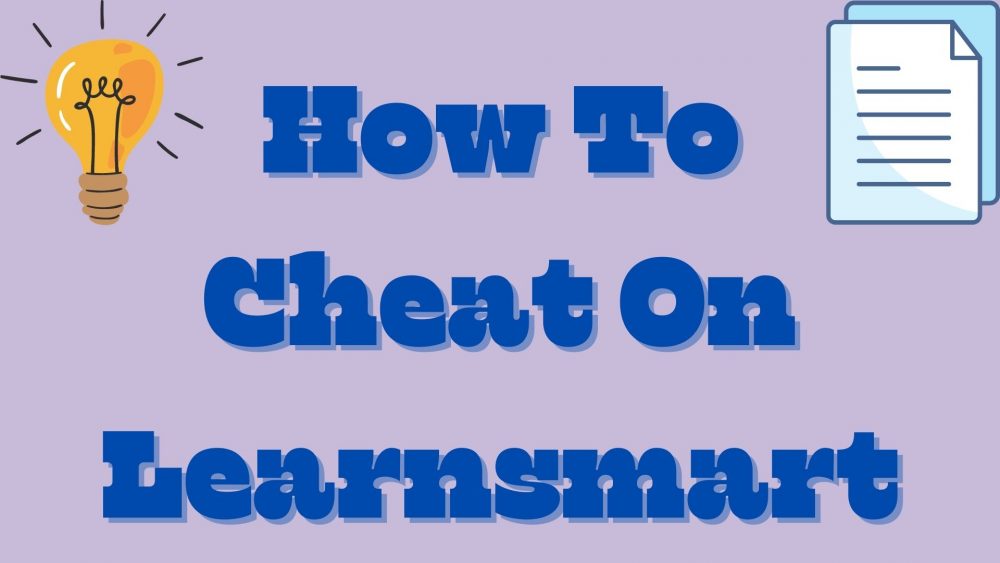 How To Cheat On Learnsmart: True Way To Your Best Grades
So, you've got a Learnsmart test coming and don't have enough time to study for it. Or perhaps you've fallen ill and didn't manage to catch up with your courses and lectures. This is probably why you are looking for some information on how to cheat on Learnsmart. Don't be embarrassed by this. We want to assure you that over 80% of all students are looking for a way to pass the tests without spending too much time studying for them.
Even though Learnsmart can be quite a useful learning tool, it can sometimes be very difficult to beat. Your professor can make the quizzes a lot more difficult as well. Don't worry about it too much though. There are some ways to beat the system. Some are, of course, better than others. However, if you plan ahead, you have a good chance of passing the test with flying colors.
In this blog post, we will talk about what McGraw Hill Learnsmart Connect is and how it works. We will also talk about how your teacher can catch you cheating. Of course, we will show you everything we know about the proven ways to cheat during the tests, as well as answer the most popular questions related to Learnsmart in the FAQ section. Let's get started!
What Is Learnsmart?
Learnsmart Connect, usually referred to as just Learnsmart, is an adaptive learning tool that is used by tens of thousands of students all across the world. Since the Covid-19 pandemic began, more and more schools have started to migrate to online learning. This is why McGraw Hill Learnsmart has been increasing in popularity. Even though your professor can use the tools bundled with Learnsmart to increase your learning efficiency, most professors use it to administer various kinds of tests.
Learnsmart enables your teachers to create various types of tests that are graded automatically. It is also capable of lowering the difficulty if it senses that you are having trouble passing some of its quizzes. This, in turn, enables your professor to see which topics you are having trouble with so that he can provide you with more instruction and even more practice tests. We assure this is not something you want, otherwise you wouldn't be searching for an effective Learnsmart cheat.
Truth be told, you will find many websites on the Internet that boast about having the correct answers to many of the tests. We can assure you that this is simply not possible. Why? Because most professors tweak the questions and answers before every test to make sure you can't cheat. Also, in case of automatically-generated tests, the questions and answers are randomized. Also, new questions are being added periodically to deter students from cheating.
Can Teachers Tell I'm Cheating on Learnsmart?
OK, but I really need to learn how to cheat through Learnsmart! We know you want to find a workaround so that you don't have to study for day for your test (and we will provide some solutions to your problem in a second). But first, let's answer the more important question: can teachers tell i'm cheating on Learnsmart?
Per se, McGraw Hill Learnsmart does not come with the tools to detect cheating. It can only lock your web browser so that you can't switch to another tab during the test. Your teacher may be notified if you try to do it. Other than this, the only way your professor can catch you cheating is if you try to manipulate the database behind the system. Also, trying to hack your professor's account will surely get you into serious trouble. Remember that doing this may result in not only the wrath of your school, but also in a criminal complaint from McGraw Hill or your school. Don't do it.
Even though Learnsmart doesn't have tools to detect cheating, your professor will usually make sure you can't do it easily. In most cases, students are asked to turn on their webcams and sometimes even share their screen with their professor. This makes it almost impossible to cheat. There are some ways though. Also, keep in mind that Learnsmart does not have a plagiarism detection tool. This doesn't mean your professor can't run your answers through a third-party tool though.
Learn How to Cheat on Learnsmart Quizzes Safely
Teach me how to cheat on Learnsmart quizzes, please! Don't worry, our experts will share their best tips and tricks with you for free. Here is what you can do if you want to improve your odds of getting a top grade without getting caught cheating on Learnsmart Connect:
If your professor does not ask you to turn on the webcam or share your screen, you only have to deal with the annoying browser blocking mechanism. You can't switch to another tab, unfortunately. However, you can switch to a different program, which makes it easy to open a PDF or a Word document right beside your web browser window. To switch between two open windows, use the "Alt-Tab" hotkey. Also, you can safely look through your textbook and other materials.
If your professor asks you to turn on the webcam and/or share your screen, things get a bit more complicated. You will have to use your smartphone in a way that doesn't seem suspicious. Keep the webcam pointed as high as possible so that you can freely move your hands. Also, using a second laptop or getting help from a person in the room works great. You can use this method to go through your textbooks and other materials as well.
If you are asked to write the answer instead of choosing from a list of multiple-choice answers, you should be careful not to copy and paste any content that can be found online or that was received from your professor. Your professor may easily run your answer through a plagiarism checker and catch you red-handed.
In case you need to write a short essay and want to make sure you get a top grade, you should get help from one of our expert academic writers. They can write any kind of composition for you in real time. All you have to do is tell us the exact date and time the test will take place.
Yes, we can help you even with multiple-choice questions. We have people who are experts in almost any field you can think of. For instance, you can buy custom essay online from our expert writers. But we'll talk more about how we can help you after we answer some of the most pressing questions about Learnsmart quizzes.
Frequently Asked Questions
We know you've probably read a lot of things related to hacks, tips and cheating on Learnsmart. However, did you know that much of the information you find online is actually wrong? You can get in trouble if you follow all the so-called advice you find on various websites. So, to make sure college and university students are as safe as possible, we have done our best to answer some of the most pressing questions related to Learnsmart Connect. In case you can't find the question you're looking for in the list below, just get in touch with our experts and they'll help you with up-to-date information.
Q: Can you show me how to use hotkeys to cheat on Learnsmart?
A: We would be happy to but, unfortunately, there is no such thing as hotkeys that you can use to cheat on Learnsmart. What some people are referring to as hotkeys are actually combinations of keyboard keys used to switch from one browser tab to another or from one program to another. If your professor has initiated the browser lockdown or has requested you to share your screen using a third party tool like Microsoft Teams, these hotkeys are very dangerous to use.
Q: Can my teacher see my location on Learnsmart?
A: As far as we know, Learnsmart is unable to track your location. This is usually done using IP tracking software. And even if the application could track you, IP tracking is not very accurate, especially if you are using a mobile network hotspot to take the test. You shouldn't worry about this too much.
Q: Can my teacher detect plagiarized content on Learnsmart?
A: No, at the time of writing, Learnsmart does not have a plagiarism-detection feature. Does this sound too good to be true? Well, it is! Keep in mind that nowadays, professors have hundreds of excellent plagiarism checkers at their disposal. Most of these are very effective, so don't think that your professor won't run suspicious parts of your answers through a plagiarism detection tool. You can get caught cheating fairly easy if you are taking the content from the Internet.
Q: What is online proctoring? Is it dangerous?
A: When you take your test online, your professor knows that most students will try to cheat (even if just a little). This is why he will do whatever he can to prevent this from happening. Online proctoring basically means that your professor will ask you to turn on your webcam and/or share your screen. This makes it impossible to use that computer/laptop for any other purpose than to take the exam. There are some ways around this, of course (take a look at our solutions above).
Q: Is there a 100% safe way to cheat on McGraw Hill Learnsmart?
A: We have to agree that even the best methods we have discussed in this blog post have their drawbacks. To be 100 percent safe, you need to get assistance from a professional who is an expert in your field. Fortunately, this is possible by using our services. One of our academic writing experts can help you pass the exam without taking any risks. We provide students real time assistance during the test, so you don't have to worry about a thing.
Afraid To Fail Your Test?
Getting online test help from our experts is simple. All you have to do is get in touch with us and tell us the class and the exact time our solvers for hire should log on to assist you. You are probably curious how this works. It's simple actually. We will log on and take your online test for you, if your professor doesn't ask for a webcam. In case he does, we will find another way to help you. For instance, you can use your smartphone or a second computer or laptop. Don't worry, our professional writers have helped thousands of students with cheap test help so far.
We have at least one expert for every class in your curriculum. Also, we offer online writing help for college students, in case your professor asks you to write an academic paper. In addition, our experienced essay writers can provide you all the tips and advice you need to ace every Learnsmart test you may encounter. They know how to beat any type of test, don't worry about it. We are here to provide quality help fast, so what are you waiting for? Get in touch with us today and get an A+ on your next exam!